It's been stuffy around here lately. Time for a pop culture quiz.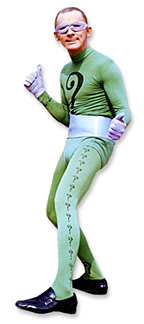 Who said this?
I'm a true believer in God and Satan. I may be one of the only people in the world that believes that Bible stories are literal. I literally believe that there is a character named the Devil who is definitely out for you and me. He's out there to get you and me to look away from Christ.
Was it:
Alice Cooper
Bill Clinton
Brittney Spears
Denzel Washington
J.K. Rowling
* * *
Okay, so here's the answer. And if you don't believe it, look here, here and here. The winners get a pair of green tights and wing tips like the Riddler.