Tolkien's The Lord of the Rings trilogy effectively ruined all future fantasy reads for me. I followed it with Terry Brooks' The Sword of Shannara — a bad choice. While Brooks' series was well received, I found it a cheesy, blatant rip-off, completely unworthy of its Rings comparisons. I got halfway through the book and chucked it. Years later, having resisted any further fantasy reads, a friend swore up and down about The Chronicles of Thomas Covenant, The Unbeliever, by Stephen Donaldson. I took the series up with great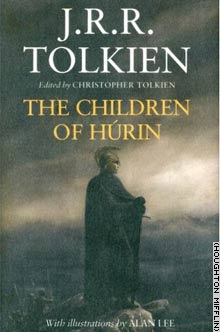 skepticism (and probably an overly critical eye), but read the first six books. While I wrestled with the lead anti-hero, Thomas Covenant, the series was well-imagined and different enough from LotR that I gave it a marginal nod. But at that point, I was jaded.
I went back and re-read the trilogy, then delved into The Silmarillion, a collection of Tolkien's works, edited and published posthumously by his son Christopher, that tells of the ages prior to LotR. This second reading, more than anything else, sealed my fate. I haven't read much — definitely haven't enjoyed — fantasy since.
Anyway, I've watched with relative cynicism the latest incarnation of the Lord of the Rings saga. While the reams of extra-Middle Earth material is interesting and adds depth to the story, most of it (like The Silmarillian) lacks the narrative depth of The Hobbit and the trilogy. So many of these addendums are, to me, the piling on of an already overloaded bandwagon. But early reviews like THIS are giving me hope that The Children of Húrin might be worth my time.
* * *
And Salon. Gosh, we need Tom Bombadil!