The new Flannery O'Connor letters reveal more about the author than just her writing prowess. Over the course of nine years, from 1955 until her death in 1964, O'Connor maintained regular correspondence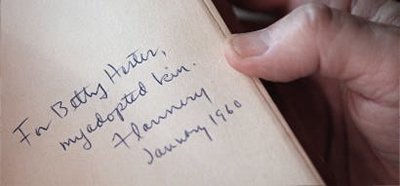 with Betty Hester. An unremarkable woman, Hester chain-smoked, never married or had children, lived with an aunt in a Midtown apartment, and rode the bus each day to work as a file clerk for a credit bureau in downtown Atlanta. The two women wrote each other nearly every week, discussing everything from Catholicism to current events in letters that have been called "the most personal" of O'Connor's life.
But something even more intriguing was revealed about Betty Hester. According to The Atlanta Journal-Constitution:
"Betty was a lesbian, and probably for that reason was worried about public scrutiny of herself. She didn't want any attention. She did not want scholars knocking at her door and did not want to answer meddlesome questions. That's why she said the letters should be closed for 20 years," said Steve Enniss, director of Emory's Manuscripts, Archives and Rare Book Library.

Enniss expects the letters to reveal an O'Connor who was surprisingly open-minded about sexuality, considering her strong Catholic faith.

"I believe Flannery will appear in a very caring way in relation to Betty Hester's disclosure about her personal life," he said.
William Sessions, Hester's literary executor, is working on a new biography of O'Connor and suggests the letters offer insight into the popular author.
"People will be surprised at the depth of their friendship and the kind of things they talked about," said Sessions, 77, who got a first look at the papers on Wednesday because he is Hester's literary executor. He said the letters reveal a caring and emotionally intimate — but not romantic — relationship between the two women.

"Betty had a crush on Flannery early on, but she seemed to be able to leave that behind as the friendship grew," he said.
There's two things that fascinate me about this relationship. First, is the practical outworking of O'Connor's convictions. Quoting again from The Habit of Being:
One of the awful things about writing when you are a Christian is that for you the ultimate reality is the Incarnation, the present reality is the Incarnation, the whole reality is the Incarnation, and nobody believes in the Incarnation; that is, nobody in your audience. My audience are the people who think God is dead. At least these are the people I am conscious of writing for.
Making God real to "people who think God is dead" is the essence of Incarnation. Not only do O'Connor's stories reflect this "Incarnational" design, apparently, her life did as well. In the course of their correspondence, Hester converted to Catholicism, asking O'Connor to be her sponsor. In this sense, O'Connor "fleshed out" the love and grace of God to a woman who deeply needed Him, ultimately wooing her to faith.
But secondly, befriending Hester must have been problematic. Christians are notoriously up tight about such accords. The ongoing friendship between this famous Christian author and her lesbian fan could not have been without its risks. Jesus was called a "friend of sinners" (Lk. 7:34) — a rap that He took pains to reinforce, especially among the religious gatekeepers. His alliances, however, ended in crucifixion. I can't imagine O'Connor's relationship with Hester did not also tweak some sensitivities. Perhaps that's why, as the California Literary Review puts it, "[O'Connor's] been accused of being a closet lesbian, a feminist, a racist, and, perhaps worst of all, a pre-Vatican II Catholic."
Betty Hester later left the church, and in 1998, shot herself with a hollow-nose bullet through the left temple. Only hours before her suicide, William Sessions had dinner with Hester wherein he later noted she playfully mocked him "for taking the Church seriously."
Incarnational living — or Incarnational writing, for that matter — demands being a friend of sinners. Flannery O'Connor's relationship with Betty Hester, with all its paradox and complexity, may raise a few eyebrows. But for me, it shows the author practiced what she preached.