A kick in the ass is a step forward, or so they say. I've received my share of boots to the behind and,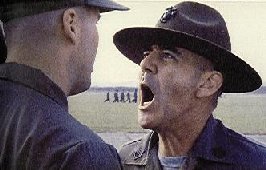 frankly, am better off for it. Sure, I'd probably be less grizzled and insensitive had I been hugged more. But resilience is a necessity that nurture is not. At least, in animals.
Being raised in an alcoholic home, one learns to survive. The absence of attaboys and weepy parental pep talks did not enhance my people skills, but rolling with the punches became a specialty of mine. Of course, the callouses on my soul have a down side. Ever try snuggling with a porcupine?
There are multiple personality types, I am told, and a significant amount of phobias and disorders to go with them. But to me, there are only two types of people: The weak and the strong. As one who's learned to eschew empathy, I have, conversely, struggled to give it. Thus, I am less likely to dispense warmth and compassion than I am to tell someone to simply "Buck up!"
So we were shopping the other day and encountered two gals with a large sign:
It's part of the Free Hugs Campaign, a group that travels round the world dispensing affection. And sure enough, someone in our group rushed over for the obligatory embrace. Everyone applauded. I sneered. The thought of being squeezed by a stranger does not appeal to me. I've survived this long with minimal hugging and doubt that some nameless schmoe (or in this case, schmoe-ette) on a sidewalk in a busy marketplace will sufficiently alter my psychological malfunction. But the fact that Free Hugs exists and that people want them is indicative, alas, that the weak survive.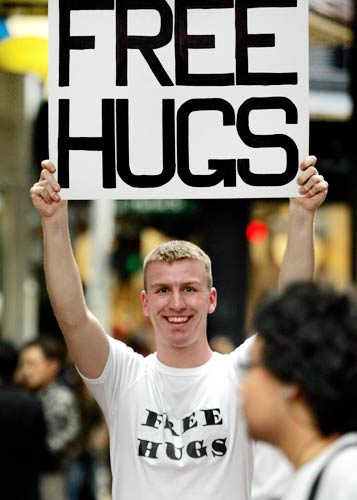 The Bible has its share of porcupines. John the Baptist could've cared less about a person's dysfunctional upbringing. The locust-eating prophet was about as likely to be found on a street corner dispensing free hugs, as Jesus would be driving a Lexus. (Sorry Joel.) "Repent or perish!" was applicable, whatever one's childhood trauma.
Scripture is full of "Buck up!" verses. "Resist the devil," James exhorted. "Wash your hands, you sinners, and purify your hearts, you double-minded. Grieve, mourn and wail. Change your laughter to mourning and your joy to gloom. Humble yourselves before the Lord. . ." (James 2:7-10). This warms the cockles of my prickly heart. As much as pop culture conditions us to take account of one's psychological sensitivities, God is not hesitant to play the role of Drill Sergeant.
But neither is He without compassion:
The Lord is close to the brokenhearted and saves those who are crushed in spirit. (Psalm 34:18 NIV)
As one who appreciates the value of a kick in the ass, verses like this are troubling. Why not just tell the "brokenhearted" to "buck up," or the "crushed in spirit" to take hold of their bootstraps? Instead, the Lord gets "close" to them.
Is this like a "free hug" because, if so, I'm already cringing. I didn't grow spikes for nothing, Lord. I mean, how else can I keep from getting hurt? Yet somewhere beneath my icy exterior is this weepy fool who wants to drop his shopping bags and run bawling across the tarmac to be hugged by a complete stranger.
And then it hits me — God hugs porcupines. He's got the puncture marks to prove it.
In the long run, exhortation is better than empathy. We need people to sharpen us and spur us on, more than we need people to commiserate. We need a drill sergeant as much as a doctor. And God is great at being both. While Scripture affirms our brokenness, it doesn't allow us to wallow in it. Yes, Jesus wants me to grow. But He'll also stop along the way to offer free hugs. And the more I let Him hug me, the more I grow, and the less of a porcupine I find myself to be.