Yeah, I've put up with CD's b.s. for a while. But this was BS of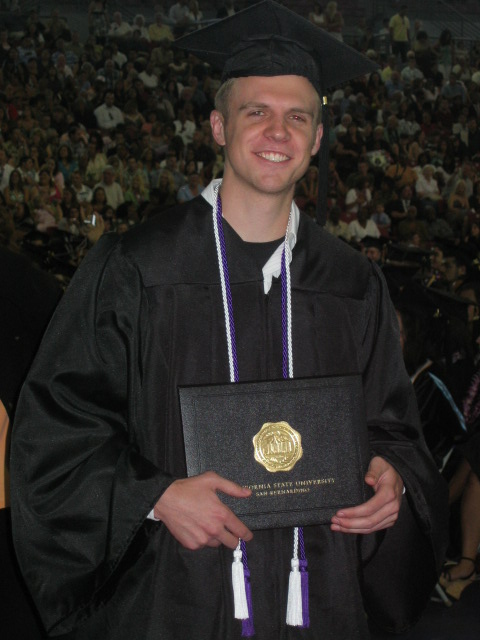 another kind. Last weekend, Father's Day to be exact, we attended one of five Cal State University San Bernardino commencement ceremonies, to witness Christopher's graduation. Even though they had a kickin' sound system and played Pink Floyd before the festivities, it couldn't shorten the two hours of tedium. (I've developed a terrible intolerance for award ceremonies.) Anyway, CD received his BS in Math and graduated with departmental honors (notice the white braided tassel thingy).
Chris has endured my rants about higher education (which appalls Grandma D. — my rants not higher education), worked part time and lived at home, all the while keeping his eye on the prize. He's already into his Masters and should have it by this time next year, with sights on a PhD thereafter. Being that he's the first person in either mine or Lisa's family to graduate at the university level, it's really quite an accomplishment. Great job! We love you, Chris!
* * *
I've been putting off announcing this, but now that pre-sales for Coach's Midnight Diner are up, let me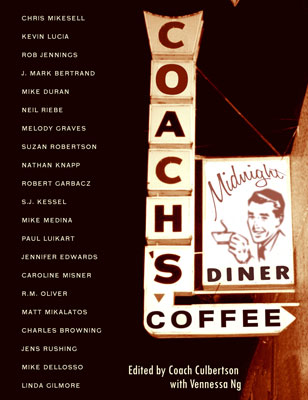 make it official. My short story, Polly's Muse, has been accepted for publication in the genre anthology. Produced by the folks at Relief Journal, the Diner will be softcover, about 250 pages, and in the same 7 X 10ish format as Relief. Actually, my story is not that short. At 6,000 plus words, it's the longest I've had published. The story has been difficult to place because it's so. . . different. I think of it as a Screwtapian Fairytale, but Coach put it in this category:
The Paranormal/Archetypal Exploration
You can read the teaser about it HERE. Several friends of Decompose are in the Diner — Suzan Robertson, Mark Bertrand and Linda Gilmore. What's even cooler, the mag will be sold on Amazon.com.
* * *
Lastly, my current article is up at Novel Journey. It's entitled Bane of the Soft Critic. In it, I extract a memorable character from my childhood, Sister Terence, a Catholic nun who had mastered the art of ear-twisting and knuckle-whacking. How does Sister T. relate to writing? Well, head on over to NJ and find out. Thanks again, Gina, for the opportunity to spread my madness to others.