Jesus is an easy target, Christians even moreso. Offend our Messiah and we won't raze, riot and murder, like some. Instead we forgive, pray or write snarky blog posts. Which means comedian Kathy Griffin has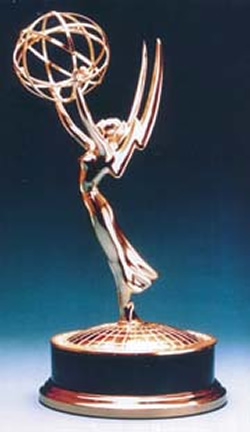 nothing to worry about.
In last weekend's taping of the Emmy Awards, wherein Ms. Griffin won a creative arts Emmy for her reality show, "My Life on the D-List," the self-proclaimed 'militant atheist' got to show her stripes. According to Yahoo News, her acceptance speech went something like this:
. . .a lot of people come up here and thank Jesus for this award. I want you to know that no one had less to do with this award than Jesus.
The Huffingtington Post added this juice from the speech:
Can you believe this shit? Hell has frozen over. Suck it, Jesus, this award is my god now.
Accordingly, the Academy of Television Arts & Sciences said in a statement Monday, "Kathy Griffin's offensive remarks will not be part of the E! telecast on Saturday night." Ya think?
But Catholic League president Bill Donohue's response was even more appropriate when he made this logical connection:
It is sure bet that if Griffin had said, 'Suck it, Muhammad,' there would have been a very different reaction from the crowd and from the media who covered this event. To say nothing of the Muslim reaction.
Are you kidding me? After the Danish newspaper ran a cartoon about Muhammad, Muslim rioters torched Scandinavian missions in Syria, Lebanon and Iran. There were bomb threats and Arab countries recalled their ambassadors from Copenhagen. Boycotts of Danish products swept across supermarkets in the Arab world and Muslims as far away as India and Indonesia spilled into the streets to burn Danish flags. Four died in Afghanistan alone as a result of the riots. Think we can expect a similar response to this comedian's "acceptance speech"? No wonder people stick to insulting Christ and Christians — the response is far more civilized.
I also get tired of celebrities giving thanks to God, especially if God occupies very little part of their actual existence. In this, I can understand Ms. Griffin's frustration. If she wants to deify a tin statue, that's up to her. But why slam Jesus on the way down?
Either way, I forgive you, Kathy. However, I'm guessing when your life is up, you will find little help from your new "god." Jesus, on the other hand, might still be listening.