Of all the insights in Mark Bertrand's Rethinking Worldview, the one about the place of Story in worldview formation is the most fascinating to me.
Much like the building of a house, I tend to see worldview formation as a deliberate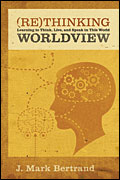 exercise, a logical process of analyzing and assembling ideas in cohesive, "liveable" fashion. Do we choose our worldview or does our worldview choose us? Well, I believe the former (whether or not I was chosen to). But, like it or not, over the course of ones' life there are many forces at work to shape, strengthen, challenge and deconstruct our worldview.
Bertrand suggests that Story is one such force:
Story makes a more visceral impact [than abstract principles]. That doesn't mean the logic is meaningless, or that the example of story, no matter what its moral, ought to be followed. But it does point to the reason why poets (or, in our age, filmmakers) are the unacknowledged legislators. They work in the most powerful medium. Everyone is influenced by story.
Stories move us in ways that principles and systems don't. Because of this "visceral impact," Bertrand suggests that poets, storytellers and filmmakers are culture's "unacknowledged legislators."
But are Stephen Spielberg and the Coen Brothers the ones we want shaping our worldview?
Postmodern pop culture bestows celebrity for various reasons, some of which have very little to do with actual substance. Nowadays, someone can become a "spokesperson," idol, or, as Bertrand puts it, a cultural "legislator," by being wealthy, funny, talented or simply good-looking. But perhaps the glean of celebrity is as much a testament to the power they wield (i.e., the "visceral impact" of Story), as it is to any actual wisdom or authority on their part.
Could it be that our "reverence" for storytellers, and our "susceptibility" to Story, says more about the nature of our world than the actual tellers of those tales? After all, Tolkien is venerated not for his wealth, humor, or GQ swagger, but because he excavated a myth.
No wonder the Gospel is, first and foremost, Story. Bertrand writes:
The gospel comes to us in narrative form, and we first hear and comprehend it in this way. Believing in that story and in its author brings us into the community of faith, where we learn other stories and move, as we mature, to doctrinal, systematic thought.
The Gospel Story is the gateway to spiritual life and growth; we begin our journey, not in a classroom, but around a firepit hearing about a lost Paradise, a chosen people, and Plan of rescue. As much as I want to approach Christianity through logic, it was the simple story of God coming to earth to die for our sins that ultimately broke my heart. The bringer of that Message — the Storyteller, if you will — was but a player in that grand Tale.
And now I've been enlisted.
We have a story to tell, and it's the best story, one with power that people need to hear. The better we know it, the better we know ourselves. The gospel story delivers us from the power of other tales, other conceptions of ourselves. Pray that God gives us ears to hear.