My latest post is up at Novel Journey. But don't let the title throw you off. Jedi G and the Audible Omelettes is a contemplative (albeit, snarcastic) rumination on postmodernism's influence upon the arts.
I'm a bit puzzled, however, that more wasn't made of NJ's inclusion in the new issue of Writer's Digest "101 Best Websites for Writers" feature. (It should be online for free within a few weeks, so keep an eye out — Writer'sDigest.com).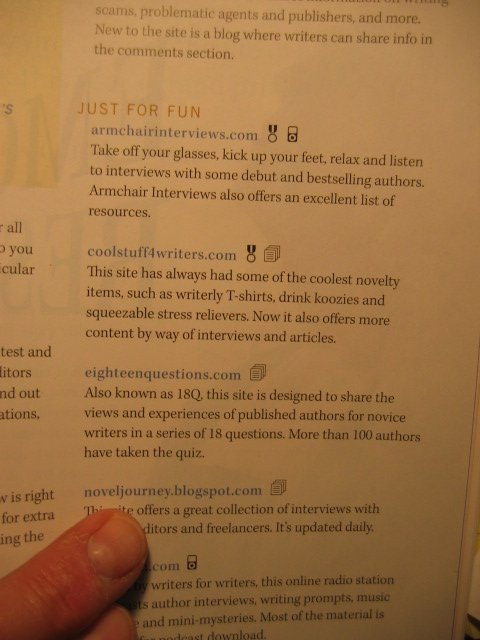 What struck me — and frankly, what motivated my current post over there — was the category the site was placed in. See the pic above? Novel Journey is in the Just for Fun section. Huh? And here, all this time, I thought we were serious. No wonder I've been noodling over such heady fare as Being Bleak and When is Fiction Propaganda? Oh well, maybe I should keep my tongue in cheek more often.
Anyway, check out my latest entry on one of the World Wide Web's best — and funnest — sites for writers.