Presales for Relief Journal 2.3 are ongoing (I'm unsure when it will mail), and I'm super-excited about my inclusion in it. My non-fiction essay, "The Ark," received the Editors Choice Award. Believe me, it's humbling. Reading the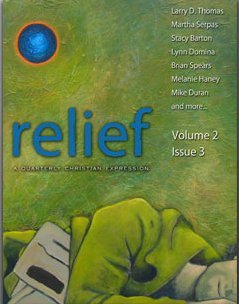 bios of the other authors and poets is incredibly intimidating. I'm included with playwrights, English majors, teachers — folks with serious publication cred. Yikes! I'm a construction worker who barely graduated high school. Oh well, I guess the joke's on them.
I recently received another acceptance for a short story, this from a rather unlikely source. I say "unlikely" because I don't write a lot of sci-fi stuff… although that may be changing. RayGun Revival is part of the Double-Edged Publishing universe, a self-described purveyor in "golden age space opera." Several years back, a quirky piece entitled "Father Fayad's Curious Compatibility Projector" was picked up by a fledgling British mag called Forgotten Worlds. It paid well, but the final product was pretty disappointing: cheesy cover art, terrible type-setting, and to top it off, about a year letter the project went belly-up. Anyway, I was looking for a place where the story might have a longer life and a broader readership, and was thrilled that the folks at RayGun found the tale to their liking. An added bonus: The cover art of their PDF's is bomb!
Finally, I am continuing to explore the possibility of doing a "vampire story." The project is taking on some intriguing dimensions. I'm so reluctant to pore a year's worth of writing energy into something that'll just fall by the wayside or get lost in the shuffle of that genre's glut. So I recently had a lengthy phone conversation with my agent about the subject. She has never handled anything "vampire" and, as you can imagine, has been skeptical. Anyway, after reading my synopsis and putting her finger to the wind, her interest is… piqued. It'd be a risky deal — especially with the recent re-emergence of vampire lit — and I'm finding myself really wrestling with the possibilities. Lord, give me wisdom!