Danny Boyle's Slumdog Millionaire has garnered a lot of critical praise, and made not a few year-end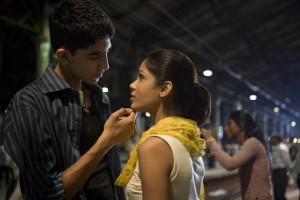 "best-of" lists. The film combines gritty realism with whimsical hope as it follows the plight of an 18-year-old Indian orphan named Jamal who's spent his life in abject poverty, scavenging on the streets of Mumbai, experiencing the worst of the Hindi slums. Jamal inexplicably becomes a contestant on the Indian version of Who Wants to Be a Millionaire and, to the dismay of authorities, reaches the final question round and becomes a folk hero.
But how is it possible that a "slumdog" — the dregs of the Hindu caste system — could transcend such bad karma? Thus, the film opens with a multiple choice question:
Jamal Malik is 1 question away from winning 20 million rupees. How did he do it?

A) He cheated
B) He's lucky
C) He's a genius
D) It is Written
Inherent in the question is a philosophical conundrum. How does anyone ever "make it" in life? Do we create our own luck, or does luck find us? Should we try to cheat the system, or work our way to the top? Is blind chance at work, or is there a divine plan, a destiny, that we must lay hold of?
As we follow the plight of the protagonist in Slumdog Millionaire, we get the sense that something very different than Hinduism, the primary religion of India, is at work. Apparently, this was intentional by the book's author, Vikas Swarup. In an interview with The Hindu, Swarup says,
"I wanted my protagonist to represent each and every street kid in India. Hence I gave him this all encompassing name. Ram Mohammad Thomas, in a sense, transcends religion and caste – he is an everyman, an embodiment of the microcosm of India," the author says.

The book had also set itself apart by refraining from using themes like Karma in it's narrative, which are a constant fixation in many books by Indian authors.

"My hero is an eighteen year old waiter living in Asias biggest slum in Dharavi. His life perforce had to pass through the bars and 'chawls' of India. He would be working as a servant here, a waiter there. Hence there was no scope for any karma-dharma exotica." (emphasis mine)
Notice that the author intentionally avoided "using themes like Karma" and created a character who "transcends religion and caste." This is interesting because "religion and caste" are intrinsic to the protag's dillema. As a child, we find him living in squalor amidst a vast tent city of peasants and cripples. These were the lowest of India's four castes. The Encyclopedia of World Religions explains:
In general the caste system is rigidly based on heredity. One is simply born to a lifelong caste identity, as determined by karma, which directs the soul into whatever it deserves.
Thus, basic Hinduism would interpret Jamal's suffering through the lens of karma. In other words, being a slumdog is what he "deserves." But rather than frame his suffering and poverty as part of a necessary karmic cycle, the movie interjects something completely foreign to Hinduism — the concept of destiny. It is Written. In other words, in order to interject hope into Jamal's miserable existence the basic concepts of Hinduism had to be jettisoned in favor of a more Westernized, Judeo-Christian paradigm.
Scripture teaches that grace transcends karma, that a merciful God pursues us through the slums of existence, that we need not bear the penalty for our sins, and that no matter how dire our circumstances, goodness can prevail. On the other hand, if karma ruled, Jamal would have no such luck.
Perhaps this is why the author and filmmaker avoided making the connection. For without grace, not only would there be no redemption, the story would be pointless.