"Got Church?"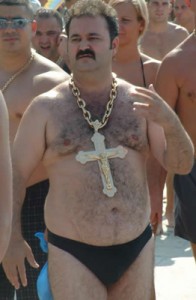 Apparently, that saying is part of an advertising tactic designed to get people to go to church. I've been seeing signs around town with that logo, mimicking the "Got Milk?" campaign. So someone pulls up to a stop light, sees the "Got Church?" placard hanging there beside the "Lost Dog" and "We Buy Houses" clutter, and suddenly becomes convicted. Yeah, that's what I need. Church. As the light changes, they vow to remember The First Church of the Supremely Enlightened, before heading off to the Unemployment Office or Manicurist. At least, that's how it's supposed to work. Right?
I know, I know — God can use all kinds of things, even foolish ones, to draw people to Himself. But when it comes to outreach and evangelism, there's far too many foolish things for Him to choose from. In fact, getting people to come to our churches and listen to our message has led to considerably questionable antics.
Take the twenty dollar bill below. We found this on a family outing to Oak Glen last Fall to pick apples. One of the kids shouted "20 bucks!" and rushed over with a half-folded twenty dollar bill. But when they unfolded it, the group heaved a collective groan. On the back was a gospel tract ending in the sinner's prayer. And you thought you were richer? Gotcha suckers!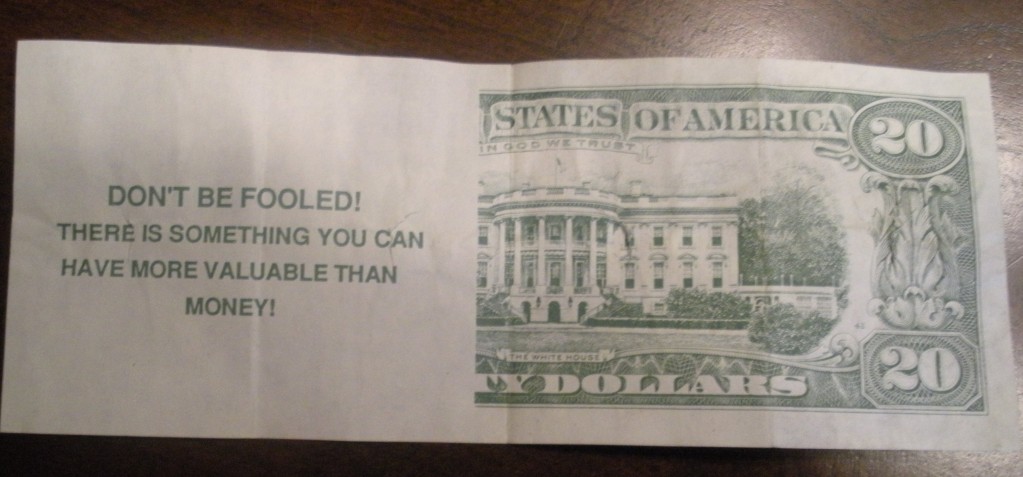 Is this good evangelism?
Many Christians, in answering that question, tend to justify the 20 Dollar Surprise on the grounds that God can use it. If one person finds that tract and gets saved, they say, then it's worth it. In other words, the end justifies the means. But is that enough rationale for tricking people into a Gospel encounter? If it is then we should pull out all the stops, churn out the cheezy gimmicks, sneak attacks, and blatant propaganda because, hey, God can use it.
But just because God can use something does not make it a valid evangelistic technique.
Remember those Christian weight lifters that used to tour the country, touting "the power of God" and petitioning Jesus for "strength" before busting blocks with their noggins and hammering in nails with their fists? They were regulars on TBN and enjoyed several years of popularity. Churches scheduled these Christian musclemen as an evangelistic draw, and supposedly a lot of people got saved. But is this what Jesus had in mind when He commanded His followers to preach the Gospel — a three-ring circus followed by the Four Spiritual Laws?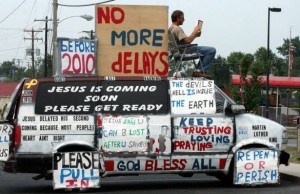 Yes, God can use the "Got Church?" signs, the fake 20 dollar bill, and the powerlifting preachers. That's not the issue. The issue is whether or not the medium actually jives with the message. The problem with sneaky Gospel tracts and spiritual sideshows is that they undercut the validity of their own message and trivialize something that is vitally important.
In other words, the approach undermines the objective.
Let me offer another example: Along the 15 freeway near Corona, when gas prices out here in SoCal were inching near five dollars a gallon, I saw a banner on a church that read:
Save Gas / Worship Here
No lie. Me and Jacob were rolling! What's laughable about a sign like this is not just its unapologetic pitch, but its spiritual vacuity — it undercuts and trivializes the very reason we should go to church.  Should you attend a church just because it's close? Heck, if the objective is simply to "save gas," then you could just stay home and watch Pastor Gas. Fact is, we should attend a  church for more important reasons than just its proximity to us.
Like this  advertisement, much of our evangelism carries a built-in incongruity. Though well-intentioned, many evangelistic efforts sabotage long-term spiritual results. The problem with trying to spread the Gospel by hook or by crook, by stealth, ambush, or misdirection, is that the Methods don't jive with the Message.
Continued…