Well, at 71 years young, my mother's gone and done it. She's moving to Maui.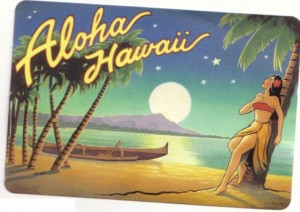 It's been a dream of hers — one that she's driven us kids batty with for the last decade! But after seeming eons of shameless self-pity, she managed to nuke the funk and recover her girlish brass. It's all happened rather quickly. An apartment opened that she liked, she put the money down, and it's been hecka hectic ever since. She graciously requested Lisa and I escort her and help her get situated (translation: she's paying our way). Hey, I didn't ask for a vacation, but I figure it's a great way to stimulate the economy.
Anyway, posts will be scarce around here for the next ten days or so. Lord willing and the jets don't fail (from wayward gulls, probably), my next entry will be pics posted from a coffee shop in Kehei, where I will be clad in swim trunks and flip-flops, surrounded by Polynesian dancers in grass skirts serving tropical rum and succulent slow-roasted pork.
Okay, strike the Polynesian dancer part.
Anyway, after getting some color back into my pale winterized flesh, we'll be hiking, snorkeling, and eating too much. Oh! And helping my Mom move. Now it's off to LAX. Adios, amigos! I mean, Aloha…