In case you missed it, last week was Pink Friday. People were asked to show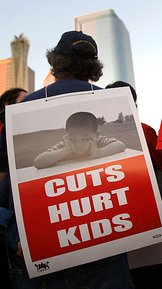 support for the tens of thousands of teachers facing potential layoffs due to California's budget crisis. Yeah, it's crazy. But to hear the public school teachers out here frame it, you'd think the world was coming to an end.
There's been sit-ins, protests, media campaigns and editorials. We're being inundated with reminders about how important teachers are, how hard they work, and how critical they are  to the success of our students. There have been tears, impassioned pleas and angry threats.
And, for the most part, I don't buy it.
Now lest you think I'm just a naysayer, my older son is a Math teacher, his girlfriend is an English teacher, my daughter-in-law is a teacher's aide, and I work for a school district in SoCal. (Okay, so I'm in the construction wing. Still most of my job involves working around and/or with teachers and administrators.) So me and my family have a stake in what happens to the schools out here.
But listening to some of the teachers' advocates and union officials you'd think that public school teachers are some of the most important figures in American society. I mean, how did we ever survive as a country without middle school PE teachers?
It's hard to tell whether or not this conflated sense of self-importance is genuine, or just a tactic to garner sympathy. But neither one works for me. Lisa and I have raised four kids. They all graduated high school. None of them are in jail, have a drug problem, affiliate with a gang, collect unemployment, or profess atheism. They work, pay taxes, and consume American goods. For a short period of time, we home schooled all of our kids. Once they entered public school, we encountered good teachers and bad ones. But no one teacher has been more important to our children's education than their mother and father. None.
By boasting of their societal worth, teachers inversely devalue the role of parents in the educational process. But, come to think of it, isn't that exactly what public educators need to do to stay in business — portray parents as ill-equipped, untrained, overly-busy, and generally lost? It's like a co-dependent relationship — you reinforce my ineptitude so I can empower your superiority. Great trade-off, huh?
Furthermore, for a group that touts its intellectual ascendancy, training, compassion, and cultural relevance, there sure is a lot of panic. If anyone should be leading the way through these dark times, maintaining their composure and acting rationally, it should be our educators, right? Think again. I recently watched a local school board meeting attended by dozens of teachers. The gloom, desperation, and woe projected by these "professionals" was astounding. Is this the best America has to offer?
Memo to teachers facing potential layoffs: You will survive. Heck, what a better way to establish your smarts than by finding creative ways to make it. Hey, I don't want to lose my job either. But I've been laid off before and am a better person because of it. I had to work harder, learn new skills, find another ladder of success and begin the struggle upwards. This is the American way, the kiln that forges our national spirit. Leading us with a "can do" spirit of optimism and ingenuity would bolster our country's image of its educators far more than the weepy, pessimistic, self-important blather that characterizes so much of the CTA's current apologetics.
In a recent speech on education, President Obama said, "Despite resources that are unmatched anywhere in the world, we've let our grades slip, our schools crumble, our teacher quality fall short, and other nations outpace us." He's right. When it comes to public education, America gets less bang for its buck than any other nation. That's nowhere more true than out here. Despite having some of the highest paid teachers or specialist mathematics tutor in the nation, California continues to rank near the bottom in test scores.
Facing the possibility of deep cuts may be the best thing that's ever happened to our public schools, its teachers, and parents. Yes, many children will suffer from bigger class sizes and less staff. However, many, many children are suffering right now. Expanding the number of public school teachers has, apparently, not made things — or our children — better. So how does keeping all those teachers employed change things?  If their protestations are any indication, it's time we started admitting that teachers may be part of the problem.