I recently purchased six tickets to the Christopher Hitchens vs. William Lane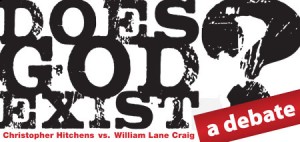 Craig Debate being held at nearby Biola University. The main auditorium has sold out, but overflow tickets are still being sold for the Whittier Area Community Church. Apparently, this is a hugely popular event. But what's the draw? Debates between Christians and atheists have been going on forever. What makes this one so special?
For one, both men are highly respected spokespersons for their positions. Hitchens' book, God is Not Great, How Religion Poisons Everything is pushing 100,000 sold. He has appeared on numerous talk shows and is an articulate, witty representative for the atheist position. Likewise, Craig has written many books on the validity of the Christian faith, and regularly debates some of the world's leading atheists. So both men bring significant cred to the event.
The debate is being held at a Christian university so, I guess, that partly explains the draw for believers. After all, this is on "our turf." But it appears many atheist groups are mobilizing contingents, which should lead to a rousing atmosphere. Contemporary atheism has recently become more offensive — as in on the attack — what with advertizing campaigns and outspoken apologists like Richard Dawkins and Phillip Pullman. So in this way, both the popularity of the combatants and the issue's cultural relevance have conspired to make this something of an event.
Someone recently asked me why I was going, and it struck me as a reasonable question. You already have a position, they said. Are you going just to root against the bad guy? If I'm honest, my mind IS already made up. Nothing Hitchens can say can persuade me otherwise. But really, how many of the attendees will genuinely be open-minded? 10%? 33%? 75%? I'm guessing most people are attending in the hopes of having their beliefs reinforced, and to hear those beliefs articulated in a public forum. Yes, it's helpful to see such antithetical ideologies engage in civil debate. Still I wonder that most people attend these contests to see their existing convictions advanced, not to reach conclusions. Am I wrong?