Paul Young, author of The Shack, spoke at our church Sunday. So many questions…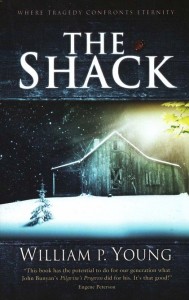 But first, the obvious — his message was pretty good. Of course, it was more like a testimony than a message, which is in keeping with the spirit of the book.  Let's say I can see why The Shack is so popular. Young's demeanor was low-key, approachable, and rather whimsical. He appeared genuine and was very easy to listen to. And the story about the book's conception, publication, and rise to best-seller status, is fairly compelling. When he concluded, Mr. Young received a standing ovation from many members of the congregation. I was not one of them. In fact, it was what happened after the service that most interested me.
We met up with two groups of friends in the foyer. I simply asked how many of them had read The Shack, and three of them began gushing. Words like great, life-changing, and eye-opening were thrown around, as well as multiple copies purchased and distributed to friends and relatives. Typical Shack testimonials. Of course, their question to me was, "Have you read it?" I said I hadn't and probably wouldn't. But what interested me even more than the book was the controversy surrounding it.
That's when the fun began.
My concerns were two-fold, I said. One was the exuberant, almost rabid, seemingly uncritical response to The Shack. For instance, there are currently 2,896 Amazon reviews. 1,900 of them are five star. 452 of them are 1 star. And there is little in between. Why the discrepancy? Most of the positive Amazon reviews sound more like testimonials. Readers praise the book for opening their eyes to the real nature of God and for gently healing old wounds. It changed their life, they said. But after a couple hundred of these tracts, the elation gets kind of barfy.
I'm sorry, but I'm deeply skeptical of anything that large segments of the American public swoon after. Standing there in the lobby last Sunday, my zealous friends were, unwittingly, mirroring my fears.
My second concern, I said, was theological. Not only is the concept of the Trinity explored, rather unconventionally, in The Shack, the author has come under fire for other seemingly unorthodox positions, most recently, the charge of denying the Atonement and penal substitution.
My friends' responses to these objections actually reinforced my concerns. The two main prongs of their defense were 1.) The book's emotive power and 2.) It's fictional (read: non-theological) platform.
One of the common defenses of The Shack is the experiences it evokes in its readers. Several times during his message, Mr. Young referenced heartwarming testimonials about how people had read the book and surrendered to God, returned after years of backsliding, or overcome deep-seated pain. I don't doubt this has happened. But people have many religious experiences, some mild and some weird. At what point does an emotional / religious experience become invalid? I mean, the devil disguises himself as an angel of light, right? And since when can emotions be trusted? Furthermore, how many of The Shack clan are being steered toward the God of the Bible? When Oprah and various New Age proponents can endorse the book, I have some questions about it's theological integrity.
Which leads to the second rebuttal: The Shack is not a theological treatise, it's fiction. Hey, I get this. Fiction cannot be expected to encapsulate theology in a tidy, systematic way. Even biblical narratives, stories about the prophets, apostles and the early church, do not neatly summarize doctrinal themes. Sometimes, in fact, they obscure them. But on the other hand, a book that so obviously addresses a biblical concept like the Trinity and whose author is so openly appealing to Scripture (not to mention doing the guest speaker circuit in churches around the world), should be carefully critiqued by Christians. At some point, it is inappropriate to attach the label "Christian" to a work of fiction.  I'm not exactly sure where that line should be drawn. But simply saying a book is "fiction not theology" does not let it off the hook — especially when it addresses theology and it's author is a professing Christian.
Suffice it to say, after hearing the author speak and conversing with his "clan," I have as many concerns about The Shack as I did before.