As the Lakers gear up for Playoffs '09, and what many people are predicting will end in a championship, I can't help but worry about their weak link. No,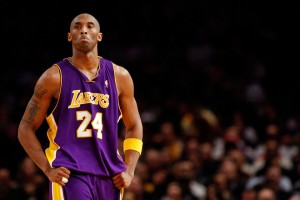 it's not the struggling Bench Mob, Bynum's knee, or Lamar's schizophrenia. It's the world's best basketball player.
Good arguments could be made for Kobe Bryant being the best baller on earth. But as a diehard Laker fan, I've noticed cracks in the facade. You see, as Kobe goes, so goes the Lakers. And when it comes to crunch time, no one hogs the spotlight like #24. And therein lies the rub.
For instance, the Lakers last loss of the season was to the Blazers. Mind you, they haven't won in Portland in five years, and they were, at the time, still vying for the best record in the league. Going into the playoffs as the top dog in the West, you'd think the Purple and Gold would want to make a statement, huh? Down by a basket with under a minute to play, Kobe heaved up a three-pointer that failed to draw iron (while being double-teamed) and, the next trip down, turned the ball over with an errant pass. He finished 9-24 with a team high 3 turnovers.
I've seen it way too many times. Things get tight, Lakers go to Kobe. After that, they go to Kobe. And if that fails, they go to Kobe. The problem is, (1) Everybody knows where the ball is going, and (2) He's more than willing to jack up shots… no matter how many defenders are on him or what degree of difficulty the shot.
Advantage: Opponents.
So is it any coincidence that most of the Lakers' losses feature poor shooting by their go-to guy? In the loss to Charlotte, Kobe shot 11-28. In their loss to the Hawks, Kobe was 7-19. Loss to Philly, 5-15. To Portland, 11-29. To Utah, 14-33. To Denver, 10-31. Orlando, 10-26. Detroit, 12-30. Are you seeing the pattern here? And, just to rub it in, in Game 6 of the NBA Finals last year, which was do or die for the Lakers, the best player in the world shot 7-22 with 4 turnovers. It is the one constant in most Laker losses.
Yeah, Kobe Bryant may be the best player in the NBA… when he's hitting his shot. The bummer is, when he's not hitting his shot, he keeps shooting. And his teammates keep giving it up.
So as the playoff approach, let me make a prediction: The less Kobe shoots and the closer his shooting percentage is to 50%, the better chance Lakers have to win it all.