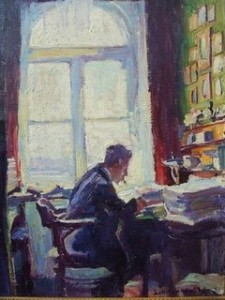 I'm still reeling from Joyce Carol Oates' short story "Landfill" in The Year's Best Fantasy and Horror 2007. No wonder she's considered one of America's greatest novelists. Even more interesting, Ms. Oates' has been called The Grand Dame of the New Gothic. Her penchant toward literary horror surely confounds critics of a genre that's often stereotyped as B-grade schlock.
Anyway, the Guardian recently asked Oates and several other professional writers this perennial question:  Is writing for a living a joy or a chore? Oates responded,
To me, who has written for most of her adult life, in a number of genres and with wildly varying degrees of "enjoyment" and/or "misery", it's likely that writing is a conscious variant of a deep-motivated unconscious activity, like dreaming. Why do we dream? No one seems to really know, just as no one seems to really know why we crave stories, even or especially stories we know to be fiction. My experience of writing – of writing these very sentences, for instance – is invariably a blend of the initially "inspired" and the more exacting, or plodding, execution of inspiration.
Most writers find first drafts painfully difficult, like climbing a steep stairs, the end of which isn't in sight. Only just persevere! Eventually, you will get where you are going, or so you hope. And when you get there, you will not ask why? – the relief you feel is but a brief breathing spell, before beginning again with another inspiration, another draft, another steep climb… (emphasis mine)
I'm not sure what's more interesting, that non-writers view novelists as feckless and lazy, lounging on seaside balconies in their slippers cajoling inspiration from an ever-evaporating fifth of gin, or that professional writers see their business as damn hard work. And that's what the majority of the authors interviewed in the Guardian piece suggest: Writing in not that fun. Or as Ronan Bennet put it, "I'm not sure I would describe as pleasurable the actual process of writing, even when it's going well…"
You have to wonder then why people aspire to become professional writers.  Perhaps, like Oates ponders, they don't have a choice. Maybe writing correlates to a "deep-motivated unconscious activity, like dreaming." And who chooses their dreams? Either way, I found their answers rather encouraging. Especially Ms. Oates' description of writing as a blend of inspiration and plodding execution. But how someone can find enjoyment in "plodding execution" is another story…