Been anxious to uncork this, but Coach's Midnight Diner: The Back from the Dead Edition, is finally hitting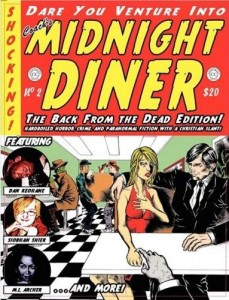 newsstands! Available through  Amazon, Barnes and Noble, Books-a-Million, and oodles of other reputable places (including Coach's garage), it's 320 pages of old school pulp, with a decidedly spiritual slant. As much as I rant about Christian publishers needing to expand the borders and blaze a new trail, founding editor Ben Culbertson is doing just that.
I was lucky enough to do double duty on this one. Not only was I privileged to be a part of the Diner Team of editors, but my short story "En Route to Inferno" was chosen as part of the anthology. It's about four seminary students commissioned to investigate a folk healer in the Baja interior. The agave-based spirits become the least of their problems. Anyway, it's one of my more straight-forward attempts at genre horror. My personal favorites in this edition: Siobhan Shier's Nowhere and Maggie Stiefvater's The Denial.  Terrific stuff! So if you're interested in hard-boiled horror and paranormal fiction with a Christian slant, belly on up to the Diner.