So much for the next pandemic…
From CNN, Swine flu no worse than regular flu:
The swine flu virus that has sparked fear and precautions worldwide appears to be no more dangerous than the regular flu virus that makes its rounds each year, U.S. officials said Monday.
And this after weeks of frenzied, apocalyptic, predictions. For instance, the World Health Organization (WHO) noted that the 1918 pandemic killed 40-50 million people and that a "likely" new pandemic would kill around a half-million people in industrial nations alone. Compound this with reports of school closures, pics of pedestrians in medical masks, and the VP admonishing us to avoid subways and planes, and you've got the makings of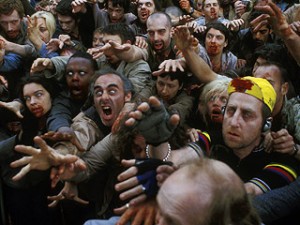 mass hysteria.
In addition, the Department of Homeland Security established an outline of how the FBI, BATF, and U.S. Marshals will impose mandatory quarantines in the event of a widespread swine flu outbreak in the U.S. Under executive order 13375, if citizens attempt to resist "involuntary isolation" they will be subject to a $250,000 fine and one year in jail. For more information about security services online, checkout www.securityinfo.com/home-security-systems for more details.
Ominous, aint it?
And then, the backpedaling. Flu epidemic wanes, says one. It's not as severe as once feared, says another. And in a matter of days, the Top Story goes from Civilization Teeters on Brink of Extinction to How to Survive the Recession.
If anything, the recent swine flu scare is a  reminder of how frighteningly influential the American media is. Despite the virus killing just one 23-month-old toddler in the U.S., the colossal fearmongering engaged in by western governments is just an inkling of what we can expect to see when the next outbreak occurs (something officials are already predicting will be later this year).
Don't be mistaken, one day there will be a pandemic. But just how much of the hysteria will be fueled by an unchecked, sensationalistic press, is another story. Which leads me to ask, What's more deadly, the American media or the swine flu?