"Lord make him miserable." That was the prayer that got me in trouble.
We were in a small group, interceding for a backslidden brother, and I asked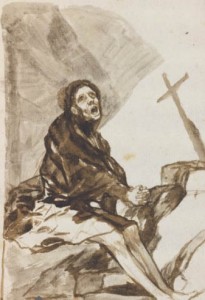 God to rain on his parade, wither his crops, put a monkey wrench in his plans, badger him, bedevil him, and burst every bubble. You know, make him miserable. No. I wasn't being vindictive or malicious, nor did I wish (or plot) any harm upon the man. But like the Prodigal Son, I believed that a weekend eating pig slop might actually accomplish some good.
Well, no sooner had we said "Amen" than I was accosted by someone in the circle.  "How could you pray that? It's the goodness of God that leads us to repentance, not misery. That prayer was totally inappropriate."
Sigh.
My Dad lived the last 10 years of his life as a recovered alcoholic. He led several AA groups and was devoted to helping others find sobriety. On occasion, someone would request that he call a friend or relative of theirs and invite them to the group. His response was always the same: "We don't call anyone. When they're ready, they'll call us."
Sometimes bottoming out is the first step to reaching up.
Okay, so maybe I should chill out. You know, pray with a little more compassion. But alas, misery is such a great motivator.