So I finished Bram Stoker's Dracula several months ago, and really liked it. A little melodramatic in spots, overly florid in others. The entire story is told in a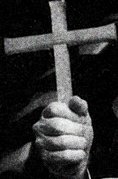 series of journal entries, and though the technique works, there are times when it challenges credulity. I mean, wow, they journaled a lot! But overall the story reads like a classic, especially as it stands in relation to vampire lit.
But throughout my reading, I kept thinking how "Christian" Bram Stoker's Dracula seems. Yes, I use the term "Christian" loosely, having major qualms with how religious booksellers have come to define our conception of both Christianity and fiction. Nevertheless, so many elements of the story parallel current CBA sensibilities.
For one, Christianity is portrayed in a positive light throughout Dracula. The protagonists pray, quote Scripture, seek God's guidance, and ultimately prevail. If Count Dracula is meant to symbolize the devil, then it is clearly Stoker's intent to show that the evil one is resisted through the power of God. And unlike much contemporary vampire fiction, Christianity is not minimized or mocked. Rather, our heroes display an unabashed reliance upon the God of Scripture and His Son, Jesus Christ.
Religious imagery and practice are explicit throughout the story. Literary critics often note the Christian allegory inherent in Dracula, not just in its overtly religious symbolism (crucifix, communion wafer, holy water, etc.), but ultimately in the collision of Christian ethics with Darwinian evolution, a topic that would have been of great interest to its Victorian audience. (See The New Annotated Dracula, pg. 542).
Furthermore, there are numerous impromptu prayers and reverential references to God. Here's a sampling:
"Great God! Merciful God, let me be calm, for out of that way lies madness indeed."–Dracula by Bram Stoker: Chapter 3
"The real God taketh heed lest a sparrow fall. But the God created from human vanity sees no difference between an eagle and a sparrow. Oh, if men only knew!"–Dracula by Bram Stoker: Chapter 8
"…the devil may work against us for all he's worth, but God sends us men when we want them.""–Dracula by Bram Stoker: Chapter 12
"Poor Mina told me just now, with the tears running down her dear cheeks, that it is in trouble and trial that our faith is tested. That we must keep on trusting, and that God will aid us up to the end. The end! Oh my God! What end?"…God can, if He wishes it, guard me as well alone as with any one present.–Dracula by Bram Stoker: Chapter 22
"Take heart afresh, dear husband of Madam Mina. This battle is but begun and in the end we shall win. So sure as that God sits on high to watch over His children. Therefore be of much comfort till we return."–Dracula by Bram Stoker: Chapter 24
"God grant that we may be guided aright, and that He will deign to watch over my husband and those dear to us both, and who are in such deadly peril. As for me, I am not worthy in His sight. Alas! I am unclean to His eyes, and shall be until He may deign to let me stand forth in His sight as one of those who have not incurred His wrath."–Dracula by Bram Stoker: Chapter 27
And there's lots more. Especially Van Helsing's wonderfully eccentric exhortations, like this one:
"Thus are we ministers of God's own wish. That the world, and men for whom His Son die, will not be given over to monsters, whose very existence would defame Him. He have allowed us to redeem one soul already, and we go out as the old knights of the Cross to redeem more. Like them we shall travel towards the sunrise. And like them, if we fall, we fall in good cause."–Dracula by Bram Stoker: Chapter 24
Compound these elements and you've got a story brimming with explicit Christian content and biblical worldview.
An absence of profanity and sex. In many ways, CBA fiction is defined as being family friendly. Thematically, of course, Dracula is for adults. Yet despite its contemporary adaptations, the original contains no erotica. Yes, there is the suggestion of physical allure and temptation. But nothing explicit. On the other hand, Chesterton's The Man Who Was Thursday, which is often considered a Christian Classic, contains far more language than Stoker's book.
Vampires are not glorified, romanticized, or portrayed as anything but vile, hellish beings. This is important because the current trend is to celebrate the vampire mystique. So instead of monsters, contemporary vampires are Casanovas.  In the classic, Dracula, though powerful, is clearly the spawn of Satan, a creature cursed and demonized. In Stoker's world, vampires are the antithesis of resurrected saints, and thus, one of the greatest of all fictional antagonists.
A redemptive resolution. As Mina plummets toward Darkness, her husband Jonathan vows to kill the vampire, staking it through the heart and sending it to hell. Mina pleads with Jonathan to, if possible, slay the vampire first so that the Count may find redemption. What happens?
But, on the instant, came the sweep and flash of Jonathan's great knife. I shrieked as I saw it shear through the throat. Whilst at the same moment Mr. Morris's bowie knife plunged into the heart.
It was like a miracle, but before our very eyes, and almost in the drawing of a breath, the whole body crumbled into dust and passed from our sight.
I shall be glad as long as I live that even in that moment of final dissolution, there was in the face [of Dracula] a look of peace, such as I never could have imagined might have rested there.–Dracula by Bram Stoker: Chapter 27
Did Dracula find peace? Is Stoker implying that no one is beyond the hope of salvation? If so, I think that's good theology. Either way, in Dracula, not only do the good guys win, Mina is saved from the curse, and the Vampire is stopped.
Yet, despite all this, what do you think the chances are that a CBA house would publish Dracula today? If you said "Slim to none," you'd be right. So seeing that Stoker's classic contains so much Christian content and adheres admirably to CBA strictures, why is the vampire mythos still so incongruent with contemporary Christian Fiction?