Is it a sin to throw a Bible away?
A long time ago, my friends and I attended a gospel meeting to see an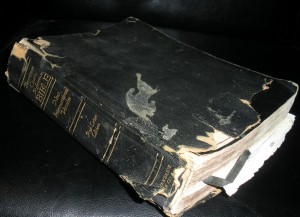 elderly evangelist. It was a young crowd, full of saved ex-hippies. We sat in the front row and had our Bibles resting on the carpet underneath our chairs. To our surprise, the preacher noted that in many faith traditions, laying one's Bible on the ground is irreverent. "People suffered and died to get that Bible into your hands," said the gruff evangelist. "The least you could do is respect it."
I've been traumatized ever since.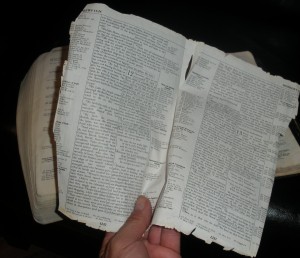 Maybe that's why I've got bibles like this one around the house. It's a Thomas Chain Reference Bible, New International Version. I cut my spiritual teeth on this baby. But now its binding is gone, its pages are torn, and the Book of Hebrews is in shreds. But throw it away? I mean, if there's something sacrilegious about laying your Bible on the floor, putting it in the trash can has got to be grounds for a lightning strike.
So it's safely tucked away inside a cabinet in my office where it will collect dust and decay. Not very spiritual, I know. But it beats risking the wrath of God…