I did a double take when I passed this display this morning in my local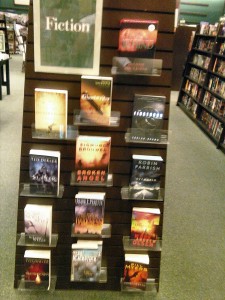 Barnes and Noble (Rancho Cucamonga store, to be exact). I was there to purchase The Strain, which I am eagerly ingesting. So I passed this display in the middle of the store, center aisle, at the end of the Science Fiction section. I noticed Ted Dekker, and slowed. Then I noticed Sigmund Brouwer and Robin Parrish. By then I'd stopped.
All thirteen titles were from Christian authors. Not only that, most of the titles were speculative fiction.
Filed under Fiction.
I was so surprised, I took a pic on my cell phone (which explains why it's so blurry). But enlarge it enough and you'll see Conlan Brown, Travis Thrasher, Melanie Wells, Frank Peretti, Bill Myers, Mark Andrew Olson, and Terri Blackstock.
So I stopped the closest salesperson. "Excuse me, but what do all these books have in common?" I asked. Without hesitation he said, "They're religious fiction." I peered at him. "Then why aren't they displayed as Religious Fiction?" He shrugged. "We couldn't find a Religious Fiction sign."
Sigh.
He went on to tell me that religious fiction sells well. But why, out of all the romance, chick lit, and historicals that dominate religious fiction, had they compiled only spec fic / suspense authors to represent? Oh well, suffice it to know that at one store in America, Christian fiction is just… Fiction.