Two women, both scorned, are book-ending a public discussion of marital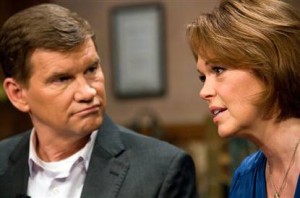 infidelity. Coincidentally, both wives claim to be Christians, as do their offending spouses. Which makes the discussion even more fascinating. But the underlying question in both cases is the same: Should they stay or should they go? Which is why the "Christian" part of this is so interesting.
Is it more Christian to remain with an offending spouse, rather than leave them?
Jenny Sanford's book, "Staying True," recently hit book stands. She filed for divorce in December from South Carolina Gov. Mark Sanford, whose ongoing affair with an Argentine woman was exposed after he disappeared for several days last summer. The details were sordid, tabloidish, and very sad. I watched her interview with Larry King last night and couldn't help but feel she was doing the right thing divorcing this heel. So who was she "staying true" to? I'm guessing it was herself. But God? Therein lies the rub.
The same question could be asked of Gayle Haggard, who is doing just the opposite. Haggard's "Why I Stayed" explains just that — why she is not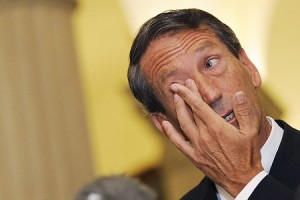 divorcing the fallen mega-church leader after his dismissal for sexual misconduct with a male prostitute. According to a piece in the Denver Post, she wrote, "Will I be the woman who washes her hands of the situation and walks away from Ted? Or will I be the woman who loves him and shows forgiveness? The choice was mine." The obvious sense is that either choice could be right. And, for the Christian, that's where things get sticky.
I could be wrong, but isn't the consensus among church-goers — whether spoken or not — that it is more noble to NOT divorce a cheating partner? The Christian thing to do, we imply, is to remain with our wayward spouse. After all, God doesn't divorce us when we are faithless. As a result, the divorce label stigmatizes many members of the average church.
Like the Sanford interview, I watched the Haggards on Larry King. And I must admit, I am far more perplexed by Gayle Haggard's decision than by Jenny Sanford's. Perhaps my grace meter is running low, but Haggard's decision to stay with her husband appears naive. I realize this puts me in the same camp as feminists who are hailing Sanford, Erin Nordegren (Tiger Woods' wife), and Elizabeth Edwards as feminist heroes for NOT standing by their cheating men. Nevertheless, I remain skeptical of Ted Haggard's "restoration" and Gayle's response just seems so… stereotypical. But can a Christian woman ever remain with an adulterous husband without seeming like a doormat? I doubt it.
Which brings me to the bottom line: Divorce is never the ideal, is always a sad thing, is a very personal issue, and rarely has clear lines of resolution. Indeed, many couples divorce at the exact point their marriage can be strengthened. Furthermore, our quick-to-split culture fuels the divorce epidemic and taints our attitudes.  Still, who's to say which woman's decision was better or more "Christian"? Heck, maybe they both were.