I have a lot more questions about prayer than answers. Somehow, thirty years of following Jesus has done little to minimize the mystery of this Divine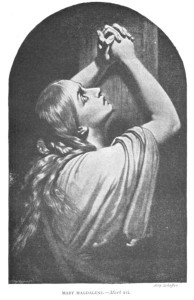 tango. And maybe that's the way it's supposed to be.
So I am currently facing a situation that  compels much prayer. Yet all the while I'm pleading with God, my brain is pushing back. I don't doubt God hears me, or that He will answer in His time or way. What I doubt is that the amount or intensity of my prayers have any bearing on those answers. I mean, if I pray more, will God answer me? If I pray less, will He not?
It's like saying that lifeguards only save drowning people who cry "Help!" at least ten times. Drowning people who only cry "Help!" once, should start paddling faster. Point is: God saves those who call on Him. So what does it matter if I call on Him ten times or once?
Nevertheless, Scripture seems to suggest the opposite. "Keep on seeking. Keep on asking. Keep on knocking" Jesus said (Matt. 7:7-11). And then there's the parable of The Unjust Judge and the Persistent Widow (Lk. 18:1-8) wherein Christ flat-out says that the woman's persistence moved the Judge's hand. In other words, if I pray more — harder, longer, with more passion and persistence — I have a better chance of God answering me.
Which is where my brain kicks in.
Because if God answers us based on the amount and intensity of our prayers, isn't that a little like "works"? Salvation by grace and righteousness apart from deeds are integral to Christian theology; I am not saved or made right with God because of anything I can do. If that were the case, I don't need Jesus. The apostle Paul said we are saved by grace and not by "good works" (Eph. 2:8-9), so that no one can boast. But if I can incite God's answer by praying more, is that not a type of "work", a formula for blessing?
I dunno. I guess that's why me and Him tango…