It's the kind of premise that invokes one of two responses from movie-goers: "That sounds funny!"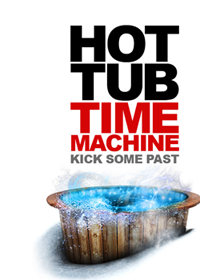 or "That sounds stupid!" You be the judge:
HOT TUB TIME MACHINE follows a group of best friends who've become bored with their adult lives. Lou (Rob Cordry) is a party guy who can't find the party, Adam (John Cusack) has been dumped by his girlfriend. And Nick's (Craig Robinson) wife controls his every move and video game obsessed Jacob (Clark Duke) won't leave his basement.
After a drinking at night in a ski resort hot tub, the men wake up, heads' pounding, in the year 1986.
This is their chance to throw some past and change their futures — one will find a new love life, one will find his mojo, one will learn to stand up for himself with girls, and one will make sure he still exists!
Tagline: Kick Some Past!
So is it sci-fi or satire? Somehow I don't think the Avatar devotees will be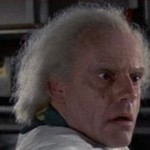 storming the box office for this one. And how exactly would a hot tub become a time machine? Perhaps Doc Brown disassembled his DeLorean, added a drain, and retired to the ski resort. Either that, or those guys just get really drunk. Oh well. Hot Tub Time Machine is either the most brilliant concept ever imagined or the worst-named movie since Dude, Where's My Car.

And it raises the question about other possible "time machine" devices, like "Dentist Chair Time Machine," "Drunk Tank Time Machine," "Voting Booth Time Machine," "Men's Lavatory Time Machine," and "That Studio Executive's Office Where Some of the Stupidest Movies Ever Get Pitched Time Machine."
*BLT — Blurbs, Loglines and Teasers