My publisher suggested the title for my book "What Faith Awakes" sounded too much like romance and requested some alternate titles. It's been my going title since day one. Yet as soon as the folks at Realms mentioned it,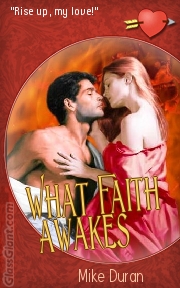 I had to laugh. Yup. That could sure sound like romance. Which is the last thing I want.
Seems the consensus among professionals is to hold your titles loosely. Fighting for a specific title is not a hill worth dying on, especially for a first-time author. Fact is, I've never been enamored by "What Faith Awakes" and am rather eager to see it go. Especially after those shrewd cats in the marketing department pointed out its romantic facsimile.
Anyway, conventional wisdom dictates an author compile a number of working titles. In fact, I've heard statistics along the line that 90% of the time, the title an author brings with their book gets swapped. So along the way, I've managed to accumulate several alternate titles for my first novel. Here's the five I suggested to my publisher:
THE UNNAMED

THE POWERS THAT BE

THE PANTHEONS

GODSEND
THE WANDERING SOUL

Now, those aren't too romantic sounding, are they? (Although, I could envision Godsend as a shirtless hunk surrounded by semi-nude devotees.) The book is a supernatural thriller / horror about a miracle that occurs in a quiet coastal town, the ensuing controversy it stirs, and the insidious powers it awakens. So I'm interested — Which one of these titles do you like?