One of my favorite reads over the last few years remains Tosca Lee's Demon: A Memoir. Apart from Tosca's stellar writing and her unique spin on the demon v. man genre, I personally liked the ambiguous ending. By that, I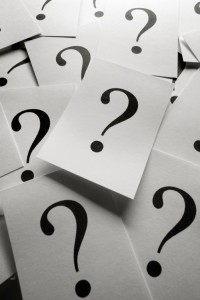 don't mean that the conclusion came off as intentionally vague or unfinished. I thought Demon ended perfectly with Clay, the protagonist, pondering his life and the choices that lay before him. And that's where Tosca Lee left the reader — to fill in our own blanks.
Apparently, the ending of Demon piqued the interest of her readers so much that Tosca recently posted a video (along with spoiler alerts) speculating What Happened to Clay. I'm guessing it's a good sign when, after THE END, your readers demand to know more about your characters. And what better way to pique their interest than by leaving them guessing.
Christian fiction is not known for leaving readers guessing. On the contrary, we seem to like wrapping things up and spelling them out. We prefer explanations and clean theological lines, with minimal interpretation required. The trouble is that neither life nor Scripture accommodate such tidy tie-ups.
The Bible (not to mention life) is full of things that leave you scratching your head. Many of its heroes are deeply flawed, and some of its stories are more gray than black or white. Yet despite all this, Christian authors and publishers still appear to eschew loose ends. Even though the Book we esteem contains paradoxes, riddles, moral mind-bogglers, and theological conundrums, somehow, our stories remain remarkably unambiguous.
The argument against ambiguity usually goes like this: Christians have the Truth! The Bible provides answers! So why should our stories be any different? Indeed, Jesus came to bring light into the darkness, not muddy things up. Shouldn't Christian fiction do the same? It's a fair question. But let me offer this rebuttal.
The biblical worldview does not eliminate mystery; in fact, it magnifies it. There is a mistaken assumption (maybe even an outright lie) that being a believer means having all the answers. The apostle Paul famously wrote, "For now we see in a mirror dimly, but then face to face. Now I know in part; then I shall know fully, even as I have been fully known" (I Cor. 13:12). The New Living Translation puts it this way:
Now we see things imperfectly, like puzzling reflections in a mirror, but then we will see everything with perfect clarity.
According to Scripture, embracing the Truth does not mean possessing all the answers. On the contrary, "Now we see things imperfectly." Mysteries remain. There are oddities, enigmas, and contradictions. Bad guys appear good, and good guys suffer evil. The innocent are abused, and the unjust abuse them. Which is why Christians anticipate a Day when "we will see things with perfect clarity," a Day when "God will judge men's secrets through Jesus Christ" (Rom. 2:16).  That day is not now. Here, there are "secrets." Yes, being a Christian means knowing the Truth. But knowing the Truth doesn't mean having all the answers.
By keeping ambiguity out of our novels, Christians unintentionally frame a world that lacks mystery and depict a God who is quite predictable. When our heroes always win and our villains always lose, when Christians always prevail and their Adversary always gets the shaft, something is terribly askew. It's not true in life, so why is it true in our stories? By seeking to scrub our novels of all gray areas we potentially make them unbiblical.
Which brings me back to Clay. Had Tosca Lee spelled out what happened to her protag, I would not have spent time reflecting upon his predicament or weighing the circumstances of his decision. It was the uncertainty, the mystery of his will, that niggled into my psyche and brought the story to life. It was not knowing the answer that made me seek it all the more.
So why don't more Christian authors employ ambiguity?
Perhaps our inability to tolerate ambiguity is evidence that our novels are not very biblical. Maybe we are working too hard to scrub the gray from our stories, when keeping the "mirror" dim is the most "Christian" thing we can do.