Okay, so I was part of the dumb horde that spent a half-hour watching ESPN genuflect before, er, interview, Prince James. This was a bigger media event than the season finale of Lost, although James' decision to sign with the Miami Heat made a lot more sense. Speaking of Lost, here's my choice for the top 3 losers in the LeBron James Sweepstakes, in descending order:
3.) Cleveland Fans — You are witnesses.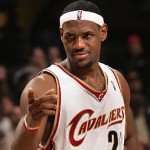 2.) Cavs Owner Dan Gilbert — Start the damage control clock! His Open Letter To Cavaliers Fans, in which he calls James' decision a "shocking act of disloyalty" and "personally guarantees that the Cleveland Cavaliers will win an NBA championship before the self-titled 'former' king wins one" was below an NBA owner. Especially one who just got done firing his Coach and GM. So much for "loyalty," eh Dan?
1.) Small Market Sports Teams — If you don't root for a sports team in LA, New York, Boston, Miami, Dallas, Philadelphia or Chicago… my condolences. Big name athletes DO NOT want to go to Utah, Portland, Detroit, Sacramento, Washington, or, well, Cleveland.
Hey, the Prince wasn't obligated to stay. And neither should he feel responsible for that gaping hole he has left in the chest of his beloved Ohioans. But if he and D. Wade hope to meet the Lakers in the 2011 Finals, they will need more than three players…