A new Christian Award has been announced —  The INSPY Awards — and I must say, I love the logo, the idea behind it, and the blogger who's launched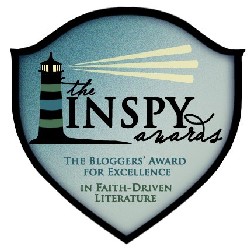 the campaign. The INSPYs are the brainchild of Amy Riley, of My Friend Amy, creator of the popular Book Blogger Appreciation Week. (In fact, I'll be interviewing Amy this Wednesday regarding some of the issues raised in this post, so make sure to check back in.)
While the INSPYs are different in that they accept nominations of "books aimed at the Christian bookstore market as well as those from the general market" (a welcome feature that distinguishes the INSPYs from other Christian awards), they are part of a growing move to recognize and honor quality stories of faith.
However, as much as I support faith-driven fiction, I often wonder if Christian awards limit rather than further the reach of Christian novels.
Several years ago, in my Thoughts on the Christy Awards 2008, I wrestled with this same topic. Like The Dove Awards (for Christian music), the Christy Awards exist, in their own words, "to recognize novelists and novels of excellence in several genres of Christian fiction." The Christy's are kind of the Christian equivalent of a National Book Critics Award or a Pulitzer. But in this case, it is believers honoring their own. As I said in that post:
I often wonder that awards like the Dove and the Christy do little to actually further our Christian witness or win us "airtime" in the secular marketplace. Some will say that's not the objective anyway, that these books are aimed at church-goers. But this means we're, potentially, just talking to ourselves and we've lost the ear of the culture at large. Face it, excellence in Christian Fiction only matters to Christians.
Readers of this blog know how much I struggle with the strictures and configuration of the Christian fiction market. On the one hand, I deeply want to see Christian authors and faith-driven lit advance. Heck, I'm writing it! On the other hand, I fear that the "Christian" label quarantines our community, pigeon-holes our authors, and prohibits our "message" from getting to those who really need to hear it. By aiming almost entirely at church-goers, we inadvertently narrow the boundaries of what Christan art is or is expected to be. Subsequently, an author's stories, as good or well-crafted as they may be, because they are not openly evangelistic or do not adhere to conservative religious guidelines, may not be considered christian. Which is why many thoughtful artists intentionally distance themselves from the Christian subculture.
So while "Christian awards" affirm the faith community, they potentially bolster a sacred / secular divide. And in my opinion, Christians are the ones who should seek to bridge rather than bolster this divide.
Which is one reason I believe the INSPY Awards are a step in the right direction. By broadening the focus from exclusively CBA / ECPA fare, the INSPYs are able to highlight a larger spectrum of authors and stories, some of which may be under the "Christian" radar. I liken the Award's intent to the  Arts and Faith Top 100 Spiritually Significant Films list. Author and film critic Jeffrey Overstreet defined the Arts and Faith catalog in this way, "The Arts and Faith Top 100 Films is a list of films characterized both by artistic excellence and a serious wrestling with questions that at root might be called religious or spiritual." Similarly, from the INSPY purpose:
The INSPYs were created to select and showcase books with the highest literary standards that grapple with the Christian faith. (emphasis mine)
"Wrestling with questions." "Grappling with faith." This is one of the reasons we read. And write. Yet so many of these books get passed over by Christian readers simply because they are not packaged as "Christian." Equally are readers who like faith-driven fiction, but who find the "typical" Christian fiction fare unpalatable. Both these groups need engaged. Which is why I'm cautiously optimistic about the INSPY Awards and the divide they are seeking to bridge.
(And don't forget, this Wednesday I'll be interviewing Amy Riley, who will tackle some of these tough issues.)
* * *
So what do you think? Do Christian awards limit or further the reach of Christian novels? Are we losing the ear of our culture and isolating ourselves from the mainstream of readers by emphasizing the "faith" elements of our stories? Or do you think Christians should be cultivating a sacred / secular divide?