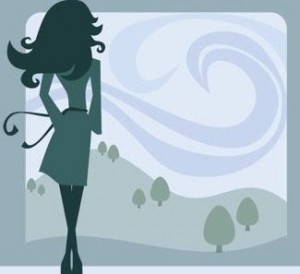 After catching buzz about the new INSPY Awards and being intrigued by its premise, I contacted its founder Amy Riley of My Friend Amy, to ask some questions. Amy is a prolific blogger with reams of cyber-cred. And as it turns out, she is extremely gracious to strangers who request interviews and ask annoying questions. And I've got a lot of annoying questions. Really, I am super-impressed with Amy's website and her approach to faith, and books, and blogging. Here's a few of the questions Amy fielded regarding the INSPYs:
* * *
MIKE: First, thanks for coming on with me, Amy. Can you share a little about your vision for the INSPY Awards, what you hope to accomplish, and what the initial response has been like.
AMY: Thanks for asking, Mike!  I used to read  Christian fiction almost exclusively, but after I graduated from college I started reading more and different kinds of books.  I enjoyed them a lot.  At the same time, I discovered blogs and would find reviews of books like Peace Like a River by Leif Enger or Home by Marilynne Robinson, books about faith that had appeal to a wider audience.  I also started noticing a certain discontent in my own reading of Christian fiction. I found that my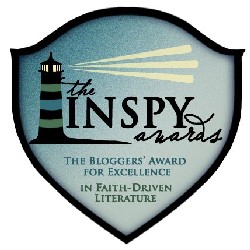 favorite books were books where faith played a huge role, but many books felt more message driven than story driven.  And I was discovering books in the general market that were deeply about faith but were going unnoticed by Christians because they weren't published by the right house.  I wanted to find a way to highlight the books that speak to me, and a way to discover more.  And because I'm a blogger who often blogs about my thoughts on these things, I discovered many others felt the same way.  There's a successful blogger-organized award for children's literature and that's where the idea came about to do it in this way.
I hope that the INSPYs will celebrate great books of faith.  I hope that the prejudice against Christian fiction that some Christian artists and authors have will begin to diminish just as I hope that Christians will learn there are other great books out there about their faith.
As I shared on my previous post about this subject, I am conflicted about "Christian awards" and tend to think they narrow, rather than broaden, our reach. Realistically, Christians are the only ones paying attention to Christian awards. So I'm wondering, do you share any of that confliction? And, if so, how do you think the INSPY Award could change that?
It's true that when you select something like "Christian" to label an award, you are by nature excluding others.  I do, however, think that books of faith do more than "reach the lost." I think they encourage believers.
I hope, however, that the INSPYs will open up  the idea of reading books about faith to others.  Because we are casting our net wide, we may very well end up highlighting some books that people who previously wouldn't touch Christian fiction with a ten foot pole enjoyed. This may encourage them to check out other books on the INSPYs list. And of course, the opposite is true.
You write on your blog that "…there is a noticeable prejudice against books called Christian fiction." Many Christians share that sentiment. But frankly, the claim can seem rather conspiratorial, even become an excuse of sorts. From your perspective, how do these "prejudices" surface and how rampant are they?
I think, quite frankly, because the Christian fiction market is smaller than the general market, when someone reads a bad book they are less likely to pick up another.  I know many readers dislike the feeling that they are being pressured to believe the same as the author and, while Christians believe many of the same things, we also have different life experiences and views.  I've had people express frustration with the feeling that characters are too one-dimensional or perfect.  There's also a lot less choice in Christian fiction. I've even talked with publishers about the lack of literary fiction in Christian fiction and it doesn't seem like its availability will increase anytime soon.
The first FAQ at the INSPY site is, "Why do we need another book award? There are already several awards for Christian fiction." One of your responses is, "We find many books are being published in the general market that meet our need for faith driven literature and we want other readers to discover them, too." Can you give me some examples of general market books that "meet our need for faith driven literature"?

We tried to include a few examples on our genre examples page, books such as Peace Like a River by Leif Enger which includes the most beautiful scene of heaven I've ever read.  There's also Once Was Lost by Sara Zarr, a YA book published last year about a pastor's daughter struggling in a very real way with whether or not she believed what she'd always been taught.  I have to admit while reading Once Was Lost, I actually told people it read like Christian fiction to me.  But it would probably never be published in the Christian marketplace because there are two instances of profanity. One clear distinction is I haven't read a general market book of faith that used a lot of Scripture to make a point or had written-out prayers or a few pages towards the end where the faith lesson was learned by the protagonist.  Christian fiction doesn't always have that either… but sometimes it does.
This "divide" between the Christian and the general market is intriguing, and in some ways, intentional. On the one hand are Christians who seek "alternative" fare, stories of non-explicit nature that respect faith. They like Christian fiction precisely because it's NOT general market. On the other hand, many Christians who sell to the general market resist the "Christian" label because it potentially limits their readership and boxes them in. Talk about this divide. Do you think it's good, bad, or necessary? And what are the risks in trying to bridge that divide?
This is a constant struggle for me.  On the one hand, labels can be extremely helpful. On the other hand, they do box in whatever has been labeled as such.  So it's actually mixed…books are unlike movies in that there are no ratings so people seeking books free from explicit sex or profanity have to rely on either the publisher's reputation or reviews from others.  (i.e. I always point these things out in my reviews of general market books.)
I don't know that there are risks in trying to bridge the divide.  I think celebrating great books of faith and helping people find them no matter what publishing house snatched them up first can only be helpful and good for books.
Under your Book Criteria section you write, "The book must respectfully grapple with some element of the Christian faith." This seems like a pretty broad criteria. Can a book "respectfully grapple" with faith issues and NOT reach a redemptive resolution (i.e., someone gets saved, repents, or returns from backsliding)? Do you have any examples of books that you think capture this dynamic?
Interesting question.  It is very broad, for the precise reason that we didn't want to eliminate a book simply because we couldn't conceptualize how it would work.  I do think a book can grapple with faith and not come to an easy answer.  I think that reflects real life… we are all always grappling at differing levels.  It's much easier to seek a closed answer and much safer.  But we all have different life experiences and considering someone else's process can cause us to reflect on our own.  One example I can think of off the top of my head is Something Beyond the Sky by Siri Mitchell.  There's a character in that book that considers leaving her Mormon faith for the Christian but ultimately doesn't.
In the same section: "Books with excessive profanity and explicit sex scenes will not be considered for the INSPYs." I don't mean to split hairs, but could you expound on this. Will the INSPY's tolerate SOME profanity and NON-EXPLICIT sex-scenes?

Yes we will tolerate some profanity and mention of sexual relations so long as they aren't explicit.  We may be challenging the stereotype of what Christian literature is, but if that's what defines it, it needs to be changed!
Finally, what's currently your biggest need for INSPY to succeed? And can you tell my readers how they can be involved.
We need nominations!  We need people to nominate the books that they love and think might be eligible. We can't possibly know all of the great books being published even in just the Christian marketplace so we need your help.  We are also still looking for judges.
Most importantly, though, we need help spreading the word.  Tweet, facebook, blog about it… tell your friends!  The more people involved the better.
* * *
Amy, thanks so much for taking the time to answer these thorny questions and share your vision. I encourage my readers to head over to the INSPY site and think about nominating some of your favorite faith-driven lit and even becoming a judge for the INSPY Awards. Thanks Amy!