I am not an impulsive buyer, and when it comes to book buying, I am very not impulsive. Rarely will I walk into a bookstore and emerge with a book I hadn't heard of or planned to purchase. And when I do, certain planets must be aligned.
But unless you're familiar with an author or have been referred to them, how do you choose to buy their book?
Marketers have been asking that question for the longest. What are the "triggers" that prompt one to "randomly" purchase a book? Apart from a recognizable name (Stephen King, J.K. Rowling, Nora Roberts, Anne Rice,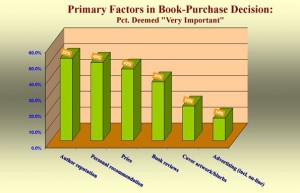 etc.), what moves a book from shelf to Cart… especially when its author is an unknown?
Some have turned this into a virtual science. Take this comprehensive Power Point  2010 Survey of Book-Buying Behavior presented by the BEA. (Click on the numbers at the bottom of their web page to view.) Not only do they statistically break down "avid readers," their "purchasing behavior," and the outlets they prefer, the survey charts the "Primary Factors in Book-Purchase Decision" (see graph). As you'd expect, "Author Reputation" and "Personal Recommendation" are at the top of the list. Interestingly enough, "Price" is the next most important factor, followed by "Reviews" and, not surprisingly, "Cover Artwork / Blurbs."
Anyway, it's quite a fascinating business. One that can make an author feel a bit… overwhelmed.
I was reminded about this "science" while reading writer pal Brandon Barr's recent post about selling his book at an outdoor festival. He writes:
It was fun seeing the different ways people decide if a book is for them.
There are the "back of the book" readers
Then there's the cover-art-sold-me-readers (no need to read the back!)
The endorsement page inspectors
The read-the-first-page-readers (there were also some who opened to a random page in the middle of the book)
Lastly, there were those who, of course, did some combo form of the above 4 methods
You see yourself in there, don't you?
The gals over at Bookslut, in a post entitled How to Choose a Book by Its Cover, whittle it down to these six components:
Cover artwork
Cover Font
Back Blurbs
Description
Author Photo
The Spine
Finally, someone who considers The Spine! (But, truth be told, a good book with a bad spine is a lot better than a bad book with a good spine.)
Alas, all this data can seem so clinical. We'd all like to think we are unique, but the fact is, when you decide to randomly buy a book you're probably a lot like the rest of us — a pre-programmed, prototypical consumer. Of course, my "consuming" may be slightly different than yours. So in an attempt to "self-actualize," let me share my top three methods for deciding to randomly buy a book:
Read-the-first-page
Description
Cover art
I almost hate to admit it, but cover art is important to me. I hate to admit it because, for the most part, the cover design of a book is out of an author's control. Yes, good books can withstand bad covers. And bad books can unjustly benefit from good covers. The bottom line remains: Good covers sway book shoppers. For better or worse.
Description is another huge factor for me. Some descriptions will immediately get my attention, like Atmospheric and Lyrical. And if the book is "atmospheric AND lyrical," I am hooked. Of course, some descriptions are so overused as to damage first-impressions. Words like Pulse-Pounding, Page-Turning, Poignant, Stunning, Amazing, and Magical have zero effect on this consumer. To me, those words are like the guy in the Wiener suit dancing around on the street corner trying to get folks into Wienerschnitzel. Memo to book reviewers: Find some new adjectives / dancing Wieners !
But my ultimate test for buying a book is to read the first page. That's it. If the author can't show me up front that they can manage words and execute a story, I'm not coughing up. No amount of endorsements, crafty blurbs, or cool covers can make up for… poor writing.
* * *
So how do you randomly decide to buy a book? Are you an impulsive book buyer, or calculated? What descriptions do you think are overused? And what are your Top Three criteria for randomly buying a book?