When it comes to talent, nobody has it all. Whether it's an athlete, artist, or author, no one excels at everything. In fact, excelling at anything may carry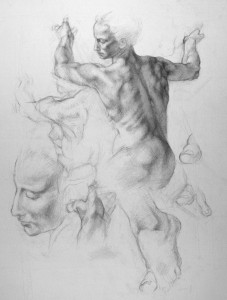 its own cost.
Last night, we attended a fantastic jazz concert. Jamie Cullum is a phenomenal pianist with oodles of energy and stage presence. He performed for a couple of hours and had the crowd dancing in the aisles and on its feet more than once. Really a talented guy. And, oh, he's also very small. Probably about 5'2″. Looks like a kid up there next to the other musicians. In fact, he even joked about his size on stage.
So I asked this question on the drive back: Does God compensate talent by giving us a weakness, shortage or deficiency? You know, maybe He knew it wasn't fair to bless someone with all that talent so He… balanced the scales. I mean, God gave the apostle Paul a "thorn in the flesh" (II Cor. 12:7-10), so why not swap out height or brains or good looks for other talents?
Which means the cost of being good at something might mean being bad at something else; the price for being strong in one area, could be shortage in another area.
Think of it this way: Video games often allow players to construct their own characters. Certain attributes, skills, or talents are available in limited quantities for the choosing. For instance, imagine you could build a virtual baseball player. 100 points were available and you could choose from a pool of baseball "talents" — hitting, power, fielding, stamina, speed, good arm, etc. Let's say you decide to create the ultimate power hitter — 100 points of pure hitting. This guy never strikes out, bats 1000.00, and clears the bases at will. Sounds good, huh? But your Ultimate Hitter has a problem: He is SLOW, he makes a LOT of errors, he has NO arm, and he is injured half the time. Sure, when he gets to the plate he's money. But with all his other deficiencies, he may never get to the plate.
But is it better to spread the talent around? You know, create a character that is 25 points hitting, speed, power, and fielding? The problem with that scenario is — he's not really great at anything. However, the baseball player who is just "okay" at everything rarely gets noticed. So maybe it IS better to "stack the deck," build an Ultimate Hitter or Ultimate Pitcher and just live with the downside. I'm not sure.
Whatever your answer, this "distribution of talent" is not unique to building video characters. Just think about it in relation to writers. No one author has the same skill set. Hemingway is unique in his strengths… and his weaknesses. The same could be said of Joyce, Crichton, Rowlings, Rice or Dr. Seuss.
So here's some different elements of storytelling, a "pool of talents" that authors can possess:
Building tension / drama / conflict
Great dialog
Rich detail and description
Establishing atmosphere / setting
Wordsmith / strong prose / lyrical and literate
Memorable characters / characterization
Strong scenes / story structure / plot and pacing
World building / conceptual depth
Narrative voice
Of course, all these elements are necessary to a good story and some of them overlap. Nevertheless, if my assertion is legit — nobody has all the talent– then no writer will be great at all of these. The writer who creates memorable characters and great dialog often sacrifices rich atmosphere or description. The writer who builds new worlds or unpacks florid concepts sometimes sacrifices strong prose or great dialog.
Which leads me to ask: If you could build a writer, what talents would you give her? 100 percent "great dialog"? 50 / 50 "memorable characters" and "atmosphere"? Or would you evenly spread your points elsewhere? Whatever you decide, remember: For every strength you give your writer, you eliminate or lessen another.
So what would your ideal writer look like? Do you think certain strengths or elements of storytelling are more important than others for writers? Or is it more important for a writer to concentrate on her strengths, rather than worry about her weaknesses?