The Bible never talks about a "call to write," though many writers and artists describe their occupation in those terms. Writing is never mentioned as a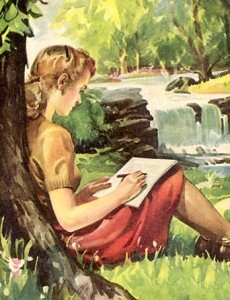 spiritual gift in Scripture, nor are writers ever singled out as having strategic roles in the world or Church (unless you count the "inspired stenographers" who actually penned the Bible). This isn't to suggest that writing is not a God-given talent, that God can't use writers, or that writing is not a legitimate profession. I just wonder if we make too much out of this "calling" thing.
This Sunday, my son-in-law's father spoke at our church. Don Fredricks is part of Strategic World Impact, a team that provides humanitarian assistance and disaster relief throughout the world. He really has an amazing story, having left his profession as a teacher (twice) to begin following the call of God into missions. Don's "calling" has often put him in harm's way, like recently being placed under house arrest for eight days in Pakistan. He's been to Guatemala, Haiti, Africa, and other not-so-exotic locales.
Don spoke about God's affirmation, and how important it is that we know God's individual call on our lives. We must know He is pleased with us, that He wants to guide us, and will provide for us as we follow Him. Then he asked us to bow our heads and contemplate our own calling. What would God say to you about your pursuits, your passions? But after hearing about Don's walk of faith, the miraculous escapes and heartbreaking suffering, I just couldn't seem to muster much enthusiasm about writing. You see, in light of the "call to missions," the "call to write" seems pretty unimportant.
Once again, it left me asking How does someone know they're "called to write"? It's a sticky question, one that people invariably answer differently. But without a reasonable sense of surety that they are following God's lead, I don't know how a person can rationalize pursuing such a difficult profession. As much as I remain conflicted, there are three ways I've come to believe a person can determine whether or not they're called to write:
TALENT: Of course, people will say that when it comes to writing, talent is subjective. I disagree. F. Scott Fitzgerald is better than most aspiring authors. As is Stephen King, Anne Lamott, and J.R.R. Tolkien. Of course, with hard work any author can improve. But without raw talent, improving is relative. This isn't to say that an average wordsmith can't become better. Nor am I suggesting that good writers are always "found". But for the most part: Talent gets noticed. Without raw writing talent — an ear for words, patience and discipline in constructing those words, and imagination in telling tales — one cannot confidently claim to be "called" as a writer. Do you have the raw talent to write?
DRIVE: A person may have the raw talent to write, but without the drive you will never be able to tell it. The drive to write is what keeps one plugging away in the face of constant rejection. The drive to write is what keeps one finding writing time no matter what their schedule looks like. The drive to write is what keeps a good writer always striving to become a better writer.  In "How to Become a Writer"  Lorrie Moore gives this blunt recommendation to aspiring authors: "First try to be something, anything, else. …[Y]ou should become a writer only if you have no choice. Writing has to be an obsession — it's only for those who say, 'I'm not going to do anything else.'" Do you have that kind of drive?
CONFIRMATION: If we are really called to anything, that thing should bear a stamp of approval from both God and man. When I was shopping for an agent, I remember the frustration of receiving one rejection after another. I recall the day I opened an email from one agent who said that she loved my stuff. I just sat there with my wife at my side and wept. The confirmation of other writers, agents and publishers — heck, that people actually read my blog, leave comments, take interest in my ideas and stories – is mind-blowing, and something I really cherish. And, in a way, it confirms my "call" to write. Do you have evidence from peers and professionals that you are "called" to write?
My own journey toward becoming a writer is inglorious. I started late and have stumbled along. Even after signing with an agent and contracting to be published, I still wrestle with my "call to write." Is this equivocation consistent with all authors? I don't know. I do know it comes back to this: Every calling is great, when greatly pursued. If God's given you the talent to write, the drive to develop that talent, and the confirmation from peers and professionals that you have it, then there's a good chance you you are "called" to write.
* * *
So how do you know you're "called" to write? And what other factors do you think help someone determine whether or not they are really "called" to write?