The Bible is supposed to be a book of answers. So it's rather interesting how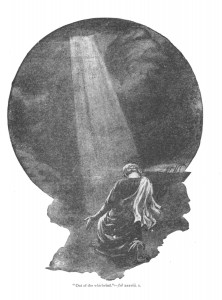 many questions it asks. I'm not referring to unanswered questions about the Bible, nor the philosophical or existential questions raised by the Bible. I'm referring to actual questions asked in the Bible, whether by God, angels, or men.
While some of those questions arise in casual dialog, some are rhetorical devices used to provoke thought or philosophical noodling. For instance, when God asked the rebel Adam "Who told you you were naked?" (Genesis 3:11), He did this for Adam's sake, not God's. In fact, that question points to a larger issue like the awakening of the moral conscience, and the act which led to Adam's need to sew the first set of chonies.
In that light, here's my Top Ten Favorite Questions Asked in the Bible. Some of them are ironic, some paradoxical, some comic. But I believe all of them are designed to make us think about something other than a good answer.
"Where are you?" (Genesis 3:9) —  God seeking Adam after the Man had sinned.
"Am I my brother's keeper?" (Genesis 4:9) — Cain to God after murdering his brother.
"Shall not the judge of all the earth do right?" (Gen. 18:25) — Abraham pleading with God to spare Sodom.
"Where were you when I laid the earth's foundation?" (Job 38:4) — God questions Job about the extent of his knowledge.
"Whom shall I send, and who will go for us?" (Isaiah 6:8) — The godhead asks if anyone will represent Him.
"Who do you say that I am?" — (Mark 8:29) — Jesus pressing His disciples as to their opinions about His nature and identity.
"For what shall it profit a man, if he shall gain the whole world, and lose his own soul?" (Mark. 8:36) — Jesus on what's really valuable. And what's not.
"Who is my neighbor?" (Luke 10:29) — The infamous question posed by a self-righteous religious lawyer that led Jesus into the parable of the Good Samaritan.
"Why do you look for the living among the dead?" (Luke 24:5) — The angels to the women searching for Christ's crucified body.
"If God is for us, who can be against us?" (Romans 8:31) — The apostle Paul on God's absolute power.
Okay, so that's my list. These questions may be good starter points for personal reflection or group discussion. Any other provocative "questions" asked by the Bible that you'd add to this list?