Apparently, early ticket sales for The Voyage of the Dawn Treader were not promising, which led to some consternation among Christian fans of the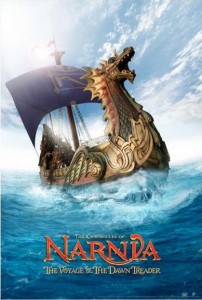 series. And a plan of attack. From 10 Things You Can Do to Ensure Narnia 3 is a Success:
The opening weekend of Voyage of the Dawn Treader is critical to the film's success, but we can do something to make sure that low predictions of a $26 million dollar opening weekend don't become a reality. The only way that Narnia books like The Silver Chair or The Last Battle will be made into films is if the Narnia Fans join together and ensure that The Voyage of the Dawn Treader is a success.
Some of the suggested things Narnia fans can do to make the Dawn Treader a success are:
Change your Facebook profile image to the image of Aslan.
Ask your church to have an announcement about The Voyage of the Dawn Treader in their Sunday morning services and provide them with a list of Sunday afternoon showtimes.
See the movie again.
Call or e-mail 10 friends and tell them about The Voyage of the Dawn Treader.
Make a flier about the Christian themes in The Voyage of the Dawn Treader and include the local Sunday afternoon showtimes. Pass out copies of this flier at your Sunday morning church service and encourage your friends to take their entire family to see the movie on Sunday after church.
The author concludes, "The future of Narnia films depends on you."
It's understandable for fans of anything to want to see those things prosper. But should Christians have a vested interest in seeing the Narnia films succeed? And if so, why?
I have long contended that when it comes to "Christian art" — Christian films, books, music, etc. — believers tend to turn a blind eye. We will suffer mediocrity and poor theology provided the "Christian" brand is furthered. I fear that this may be the case with the Narnia film series.
For the record, I have not yet seen The Voyage of the Dawn Treader, (our family will be going during the Christmas holiday), so I am not qualified to opine about either its quality or the theology. However, if fan sites like the one above are any indication, once again many believers seem averse to critically addressing either quality or theology when it comes to their "art." Who cares that a Christian film is critically panned, as long as it makes money, God be praised.
Which is why I find articles like the following so helpful. In Narnia: Hollywood vs. C.S. Lewis (my thanks to E. Stephen Burnett for the link), the WSJ author highlights a noticeable gap between C.S. Lewis (the author of the original Narnia series) and evangelical supporters of the films.
American Christians, especially evangelicals, have embraced Lewis as an adored, avuncular lay pastor since he began publishing apologetics in the 1940s, but the love affair has always required a certain willful blindness.
…Walden Media, the film-production company responsible for the movie versions of Lewis's children books, "The Chronicles of Narnia," is therefore in the unenviable position of triangulating three distinct and not always compatible factors: what Lewis actually wrote; what American Christians would like to believe he wrote and what large numbers of filmgoers want to see onscreen.
I blogged about this subject years ago in a post entitled How Christian Was C.S. Lewis and Why is He an Evangelical Hero? Among others things, Lewis believed in evolution, purgatory, and a sort of "soft universalism." To this, evangelicals have, apparently, developed "a certain willful blindness." However, it is Narnia's rather un-family orientation that the above author calls into question.
But an even bigger wrench than the source author's beliefs, may be the filmmaker's. John Nolte, Editor in Chief at Big Hollywood, noted a brewing controversy regarding two of the franchise's most notable players. 
Unfortunately, two of the main players involved in "Dawn Treader," appear to disagree, not only with our interpretation of what the Narnia series is all about, but also with C.S. Lewis, the creator of the source novels. Saturday we reported that Neeson, who portrays Aslan, the lion and obvious Christ figure in the story, said the following:
Aslan symbolises a Christ-like figure but he also symbolises for me Mohammed, Buddha and all the great spiritual leaders and prophets over the centuries.
And Wednesday, no less than "Dawn Treader" producer Mark Johnson told the Hollywood Reporter he wasn't sure if the "Narnia" novels were Christian:
But Dawn Treader producer Mark Johnson agrees with the, shall we say, more inclusive analysis from [Liam] Neeson, telling The Hollywood Reporter that "resurrection exists in so many different religions in one form or another, so it's hardly exclusively Christian."

"We don't want to favor one group over another … whether these books are Christian, I don't know," Johnson added.
So what are we in for this weekend. Has Hollywood twisted "Dawn Treader" into just another touchy-feely, multicultural, PC production that pleases no one in an attempt to please everyone?
These are good questions and ones, frankly, that more "fans" need to be asking.
Does it matter that the voice of Aslan (Liam Neeson) is channeling "Mohammed, Buddha" and "all the great spiritual leaders and prophets over the centuries"? Should it worry us that Mark Johnson, the producer, wonders if Narnia was really even "Christian"? Has Hollywood "twisted" Lewis' original Dawn Treader and replaced its theology with "touchy-feely" multiculturalism?
Or are we more worried about ensuring a good opening weekend?
I don't slight fans of anything for wanting to keep their "thing" alive. That's what fans do. I just wonder if the Narnia film series really needs our help and if this movie really helps our Christian witness or elucidates a Christian worldview. Yes, I think Christians should support films with "family values" and "Christian themes."  But is the Narnia series worth such a concerted grassroots effort? I have my questions.