A couple walks on stage, sits on a couch and begins talking. She says he's stopped caring. He says she's insecure. Blah, blah, blah. Meanwhile, the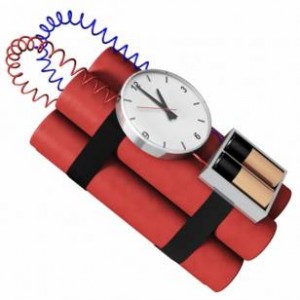 audience starts yawning. Rewind the scenario. A man sneaks on stage, plants a ticking time bomb under the couch and slithers away. Then the couple walks out, sits down and has the exact same conversation. But now the audience is riveted.
Bombs can do wonders for our stories.
This simple illustration was employed by Wells Root, an old Hollywood screenwriter, in his book Writing the Script, to note the importance of conflict in storytelling. Conflict has a way of making even the most mundane activity more interesting. People just do not pay attention unless there's a bomb under the sofa… or some equivalent.
Conflict in storytelling is often divided into two parts: Internal conflict and External conflict. In other words, not only should the protagonist be sitting on a time bomb, she should BE one.
Donald Maass, author of Writing the Breakout Novel, puts it this way:
Every protagonist needs a torturous need, a consuming fear, an aching regret, a visible dream, a passionate longing, an inescapable ambition, an exquisite lust, an inner lack, a fatal weakness, an unavoidable obligation, an iron instinct, an irresistible plan,a noble ideal, an undying hope...
These "torturous needs" and "exquisite lusts" are the internal time bombs that make our characters interesting. Question: Do your characters have any of them?
And if there is internal conflict and external conflict, joining those two can only ratchet the tension. When we combine volatile people with difficult situations, things get interesting. The writer's job is not just to create explosive characters, but to place them in contexts where their volatility is tapped.
Maass again:
Trials and tests are the stuff of character building, of conflict. Ask yourself, who is the one ally your protagonist cannot afford to lose? Kill that character. What is your protagonist's greatest physical asset? Take it away. What is the one article of faith that for your protagonist is sacred? Undermine it. How much time does your protagonist have to solve the main problem? Shorten it.
In other words, stack the deck.
I recently re-watched Peter's Jackson's, King Kong, and witnessed a perfect example of how to stack the deck against your hero. In this case, Kong (yes, King Kong is the hero). The likable giant ape fights numerous foes in the new film. But the sequences in which K. battles the T. Rex are incredible. (If only the whole movie were that good.) Anyway, in the original 1933 version, Kong also fought the man-eater. But Jackson puts his own unique twist on the dreaded standoff. He pits the ape, not against one T. Rex, or two. But three. And it doesn't stop there. The skirmish sends all of them, including Kong's lady-friend, tumbling into a chasm where they become suspended in prehistoric vines. So here we have King Kong fighting three dinosaurs and trying to protect his woman, while swinging precariously between a canyon. Talk about upping the ante!
So it's not enough to pit your protag against a villain. The villain must be elastic, invisible, merciless, or a disgruntled Tea-Partier. Furthermore, the hero must be handicapped, internally and externally. She must be fearful, unsure of herself, teetering toward despair AND wounded, temporarily blind, or missing her prosthetic leg. But don't stop there. The villain can fight her on a sinking submarine, in a burning oil refinery, or at the MTV music awards between two opposing rapper's entourages. Hey, let your imagination run wild.
Just don't forget to put the time bomb under the sofa.
* * *
Question: Do your stories lean more toward internal or external conflict? Have you ever found it difficult to kill a character, and if so, why? Can you think of other examples of a character being pummeled by overwhelming odds? Could your WIP benefit from the strategic placement of a time bomb?