The controversy surrounding Rob Bell's upcoming book has reignited the discussion about hell, charging him with possibly being a Universalist. This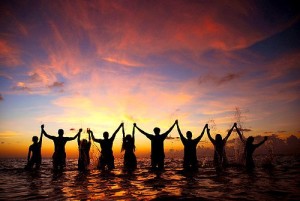 post is not about Rob Bell, but the (alleged) belief that has put him in the hot seat (pun intended… figuratively). Universalism teaches that Jesus died for all people and that all people will eventually be saved.  It also teaches that if someone rejects Christ in this life, they can accept Him in the next one, no matter how immoral, evil, or anti-Christ they were.
On the surface, Universalism sounds like a very nice position to hold. No one goes to hell. Love wins. Happy ending. However, Universalism has problems. Here's thirteen that come to mind.
Universalism is not Just.  If evil is not judged, then how is Justice served? If someone does not want to go to heaven, is it just to make them? Do Satan, Adolf Hitler and Mother Theresa deserve the same future? Or do Universalists deny Justice?
Universalism violates individual free will. C.S. Lewis said, "There are only two kinds of people in the end: those who say to God, 'Thy will be done,' And those to whom God says, in the end, 'Thy will be done' All that are in Hell, choose it." If hell is for those who choose it, then by saving everyone God violates our free will.
Universalism soft pedals, reinterprets, and/or denies the basic teachings of Jesus about hell. Jesus spoke about hell more than any other figure in the Bible. Example: "

…so it will be at the end of the age.

The Son of Man will send out his angels, and they will weed out of his kingdom everything that causes sin and all who do evil.

They will throw them into the blazing furnace, where there will be weeping and gnashing of teeth" (Matt. 12:40-42 NIV). Or, "

Then he (the Son of Man) will say to those on his left, 'Depart from me, you who are cursed, into the eternal fire prepared for the devil and his angels'" (Matt. 25:41 NIV). And many other verses.

Universalism soft pedals, reinterprets, and/or denies the basic teachings of Scripture about hell. Debate usually targets words and concepts employed in Hebrew and in Greek. Nevertheless, the New Testament is adamant about a Final Judgment where "the dead were judged according to what they had done" (Rev. 20:12) and some are thrown into a "lake of fire" where "they will be tormented day and night for ever and ever" (vs. 10).  (See The Importance of Hell by Tim Keller for a good summary of these last two points.)
Universalism eliminates the need to accept Christ. Even though Jesus cited the need for people to believe in Him, if everyone gets saved, why bother? Universalists ultimately believe there is no need for a person to follow Christ. Even blasphemy cannot damn someone, so why bow to the Nazarene?
Universalism is deterministic. If salvation is universal and automatic, then ultimately there is no free will. Your eternity is "determined" whether you like it or not. (It's no accident that Eastern religions that teach there is no hell, also teach that there is no free will.)
Universalism distorts the love of God. Love without justice is not true love, it is permissiveness. Peter Kreeft writes, "Hell is due more to love than justice. Love created free persons who could choose hell… The fires of hell are made of the love of God."
Universalism strips the Gospel of its power. If everyone goes to heaven, exactly what is the Good News of the Gospel and why do people need it? Better News (at least from the Universalist's perspective) is that you don't need the Good News to be saved.
Universalism can give someone a false sense of security. If you're going to be saved no matter what, there is no need for accountability, repentance, faith, or moral effort of any sort. You are eternally untouchable and have nothing to fear. Love wins, so why worry?
Universalism can have eternal, irreversible ramifications for its adherents if it is not true. Similar to Pascal's Wager, I am better off living as if Universalism WAS NOT true and being proved wrong, than living as if Universalism WAS true, and being proved wrong. In the first count I will still be saved, in the second count I will not.
Universalism leads to religious and moral indifference. If everyone gets saved no matter how they act, then why act morally, why perform good deeds, why strive to be just or compassionate? The Universalist's motto could be, "Do what thou wilt."
Universalism undermines the uniqueness of Christianity. If everyone goes to heaven, then the road is NOT narrow, like Christ taught (Matt. 7:13-14). Buddhists, Hindus, Muslims, Scientologists, Satanists, even Atheists, will all be saved. So what compelling reason is there for Christianity?
Universalism eliminates the need for evangelism. If everyone goes to heaven, then Christians should apologize to the world and bring all our missionaries home. What is the purpose of turning someone from paganism, mysticism, satanism, or cannibalism, if love wins?
C.S. Lewis said he never met anyone who had a lively belief in heaven who didn't also have a lively belief in hell. "If a game is to be taken seriously," he wrote, "it must be possible to lose it."
If love wins, someone must lose. If not, then the Game is fixed.
Your thoughts?