my·o·pi·a  (m

–


p

–

)n.
1. A visual defect in which distant objects appear blurred; nearsightedness. Also called short sight.
2. Lack of discernment or long-range perspective in thinking or planning.
It is startling how many Christians read only Christian literature.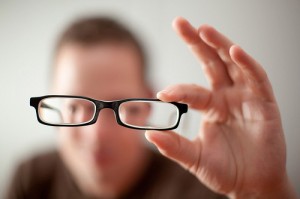 Their defense for this discipline is varied but it usually goes something like this: "The world tears us down and glorifies evil. Christians are called to be separate from the world, discerning, to renew their minds and focus on the things of God. Therefore, reading literature that glorifies God and reinforces a Christian worldview is essential for a believer."
There's a lot of truth to this. And some potential deception.
Prolific blogger Tim Challies recently posted some reasons Why Christians Should Read in the Mainstream. His entire post is worth reading. Here's a snippet from the intro:
Christians read a lot of books. This is a good thing. Christians read a lot of Christian books. This is another good thing. But it's also an easy thing, a safe thing. Though I am glad to see many Christians reading many books, I believe there is value in reading not only deeply but also widely. And this means that Christians should read more than just Christian books—we should read books that are in the cultural mainstream. (emphasis mine)
From my experience, most avid readers of Christian fiction are out of touch with the cultural mainstream. They can cite chapter of verse of the best CBA offerings, while casting a wan, if not suspicious, eye upon the NYT Bestseller list. Their literary world is more like a bunker than a bustling marketplace.
If this is true — that many believers subscribe to a "Christian only" dictum regarding cultural artifacts — there are many possible reasons for it.  I've come to believe that much of our reaction comes down to Challies' second point: Cultural Engagement.
If you want to understand the people around you, why they are the way they are, what influences them, why they make the decisions they do, you will do well to read the books they read. These books explain the ideas; the people live the ideas.
Frankly, I'm not sure that "understanding the people around us" is the primary motivation for why most Christians read. In my opinion, the average Christian fiction reader chooses stories not to engage culture, but to distance themselves from it. We seek books that will bolster our worldview, not challenge it, books that will help us escape the world, rather than engage it.
James Sire, in his fantastic book Discipleship of the Mind, said this about reading mainstream literature:
The best literature makes us feel what it would be like to hold other views of the world. It helps us get inside mindsets very different from our own.
But if you think about it, this is the precise reason why defenders of a "Christian only" model resist reading widely. They want to avoid "get[ting] inside mindsets very different from [their] own." In fact, they believe that engaging other mindsets may taint theirs.
At the heart of this "Christian only" phenomenon is a flawed view of what it means to be "in the world but not of it." Those who read only Christian literature inevitably develop a skewed perspective, not just of the world, but of God's desire for His children in it.
It makes me wonder whether or not what we call discernment is really myopia.
Your thoughts?