A fair share of writers do not write to music. At times, I'm one of them. This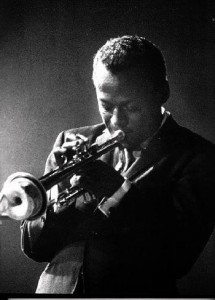 is probably because I like to talk to myself during the process and music only distracts from my conversation. Nevertheless, there are times when the perfect remedy for a sluggish story is music.
Galley Cat's Find Great Writing Music links to screenwriters discussing the subject of what tunes get their creative juices flowing. I love these kinds of discussions. Having submitted my second book to the editor, I've had time to reflect on the grueling process. And music definitely played a part in it.
Here's a list of some of my recent favorites, songs and albums that lit an imaginative spark, soothed a frenetic frame of mind, or made what was lusterless lyrical:
Soundtracks — Gladiator by Hans Zimmer and Lisa Gerrard, Let Me In by Michael Giacchino, Master and Commander by Iva Davies, Christopher Gordon and Richard Tognetti, The Beach by Blur and Mory Kante, The Insider by Jan Garbarek, The Social Network by Trent Reznor.
Jazz — Bitch's Brew and Kind of Blue by Miles Davis, Time Out by Dave Brubek Quartet, A Love Supreme by John Coltrane, The Magic Hour by Wynton Marsalis, Storytelling by Jean Luc Ponty.
Dance and Electronica — Songs by Moby, Merriweather Post Pavilion by Animal Collective, This is the Happening by LCD Soundsystem, Saturdays = Youth by M83, Return to Cookie Mountain by TV on the Radio.
Classical — Thaïs: Meditation by Jules Massenet, Cavatina by Stanley Myers,  Adagio for Strings by Barber, Orchestral Suite No. 3 in D Major by Bach, Xerxes, HWV 40 by Yoshikazu Mera, Gymnopédie No. 1 by Erik Satie, Orpheus and Eurydice: Dance of the Blessed Spirits by Christoph Willibald Gluck.
Mood Music and Instrumental — Forest by George Winston, Speechless by Bruce Cockburn, Solo Piano by Tom Howard, Frio Suite by Jeff Johnson and Phil Keaggy, Voice of the Seven Woods by Voice of the Seven Woods.
Rock and Folk — Dark Side of the Moon, Wish You Were Here and Animals by Pink Floyd, Ten Summoner's Tales by Sting, Add to the Beauty by Sarah Grove, Ohio by Over the Rhine, Armchair Apocrypha by Andrew Bird, Kid A by Radiohead.
I rarely write to rock music and when I do, the mood has to be specific. In fact, I have never understood how some writers can write to rock, especially the hardcore, raprock, and metal kind. (Are you one of these people? I'd love to know how in the world you can concentrate with Rage Against the Machine.) When I do choose rock, it's often of the more melodic, symphonic variety (see Pink Floyd) or the laid back folksy.
In general, I dislike lyrics in my writing music and feel they're competing with the words in my head. While I love jazz, sometimes discordant and unconventional rhythms unsettle my creative equilibrium. However, during the writing of The Telling, Miles Davis' Bitch's Brew meshed so well with the mood that I kept returning to it. But by far and away, soundtracks and classical are my writing music of choice. (The cello piece by Yo-Yo Ma and the violin pieces, especially the String Quintet in C, on the Master and Commander soundtrack are some of my all-time faves.)
So how about you? What's some of your favorite writing music?