The "Bash the Church" Bandwagon made another round this weekend, courtesy of Harold Camping. His failed prophecy about the rapture resulted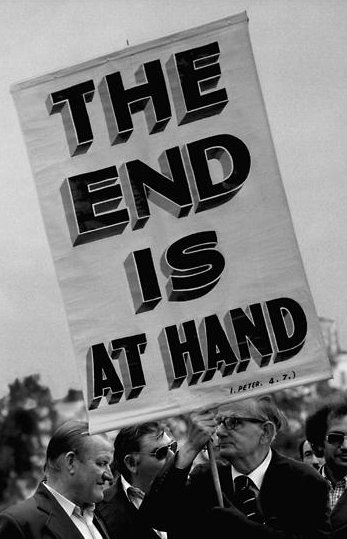 in a global yuckfest. It seemed like every other post, update, broadcast, or tweet, poked fun at the senile old "prophet."
But I couldn't help but feel that Christians, overall, were the biggest losers.
I know, I know. Camping is a nutter, a fringe fanatic at best. He doesn't speak for me or any Christians I know. Nevertheless, he traffics in something the Christian Church has historically held stake in – The End. Whether it's through rapture, Armageddon, or solar flame-out, we have always believed in The Great Reckoning.
Harold Camping's false prophecy did nothing to change that. I mean, just because the world didn't end, doesn't mean it won't.
And now I'm wondering if more people could really care less.
Call me paranoid, but the media is always primed to pounce on Christians. Any misstep, indiscretion, controversy, or blunder, is an opportunity to discredit or mock the Church. Realistically, the Secular Left has made as many failed doomsday predictions as the Religious Right. In the 60's it was the promise of an approaching Ice Age. Then The Population Bomb foresaw planetary overpopulation. More recently, the swine flu "pandemic" and Global Warning spelled gloom and doom. For instance, six years ago the United Nations warned that by 2010 the world would have to cope with 50 million climate refugees. Um, so why did these "false prophets" get a pass?
No. This isn't to justify Harold Camping or any other whackos that follow suit. What I'm saying is that something bigger and far more insidious occurs every time some preacher falsely predicts the End.
We get closer to believing there won't be one.
While the Bible is certainly not cut-and-dried concerning the End Times, some things are pretty clear. One such non-negotiable is that things get worse. Wars, rumors of war, persecution, plague, cosmological catastrophes. It gets pretty bad, folks. But something else precedes all this: A Great Deception (Mt. 24:24). Some will cry "peace and safety" when there is none (I Thess. 5:3), and many will fall away and apostatize (II Thess. 2:3). In other words, the prelude to The End is a psychological climate of…  cynicism, nonchalance, and brash denial.
Sound familiar?

Okay. So my fundamentalist roots are kicking in. Perhaps I'm reading too much into this. But after watching the unbridled mockery of Harold Camping, I couldn't help but wonder if that climate isn't already brewing. Failed prophecies harden us against real ones. Premature warnings about The End desensitize us against ANY warnings. We are so busy mocking Harold Camping, that we miss the One who is standing at the door (Rev. 22:12), the "thief in the night" (Rev. 16:15) who whisks in when we least expect Him.
Yes. Harold Camping was foolish. And continues to be so. He should be ignored. But I'm wondering: Is it those who say "The End is Near" who are most dangerous, or those who say "Peace and Safety?"