I've been gearing up for my quarterly 10 Great New Christian Fiction Book Covers list and, frankly, I'm having a hard time finding ten. Sure, there's a lot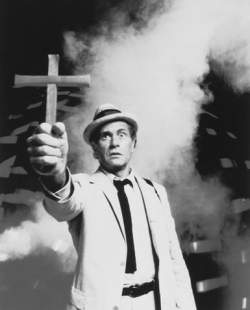 of pretty Christian fiction book covers out there — gauzy, lacy, blue sky, dandelion, doe-eyed, sassy, flowery, fair-skinned, book covers. But after several dozen, it just seems like so much of the same.
Is it any wonder "Christian horror" is such a hard sell?
In my recent interview with Jason Sizemore, founder of Apex Publications, I asked him what advice he'd give to Christian authors who enjoy speculative stuff but struggle with the "ultra-conservative strictures" of the current Christian market. He answered,
My suggestion to the writers who frequent your site is to repackage their work. Don't market it as faith-based. Use words paranormal fantasy and religious horror. Describe it as having a bit of an edge. That should boost you out of the ultra-conservative gutter.
Please note: Jason's advice is not to strip the story of religious elements but to "repackage" it. This distinction is important and points to a fundamental struggle for the Christian horrorist: The issue is the market, not religious content.
Perhaps this is obvious to some of you. Forgive me. I'm slow like that. As someone who has attempted to outline a theological basis for the "Christian horror" genre (see THIS, THIS, or THIS), it is a bit disheartening to realize that the issue has nothing (or little) to actually do with theology. The issue is the Christian market.
"Religion" and "horror" are tethered in very natural ways. Whether it's fallen angels, animal sacrifice, demonic possession, the slaughter of innocents, plagues, brimstone, antichrists, or the fires of hell, Christian Scripture and history supplies sufficient fodder for volumes of ghastly tales. Elsewhere I have suggested that the best argument for "Christian horror" is the Bible itself. Heck, after reading Bram Stoker's Dracula, one of the seminal pieces of horror lit, I expressed surprise at how inherently religious it was.
So why can't "Christian horror" gain any traction? It's the market, stupid. Zombies, vampires, and ghosts don't stand a chance against parasols, buggies, and golden tresses. And here all this time I've mistakenly believed that articulating a theological basis for works of horror would help expand the genre.
The truth is theology doesn't matter.
The real divide in the Christian horror debate is not between whether the horror genre is compatible with Christian fiction, but whether Christian horror is compatible with the current religious market. Those like myself who hope so, may be spinning our wheels. Apparently, no apologetic in the world can overcome our insatiable appetite for "pretty" covers.