Is there a science to finding your soul mate? Can Destiny be boiled down to algorithms and formulas? Or is finding that Intimate Other flat-out luck?
When I pastored a church, one of the more frequent questions I faced, and one of the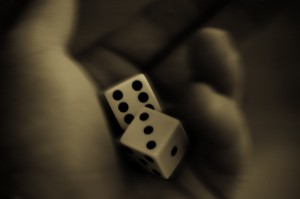 more difficult, was How does a single Christian man meet single Christian women? Of the eligible kind? It's a dilemma us old married folks can easily lose sight of. Having found your sweetheart, it's easy to forget the angst of the search.
I hate to admit it, but far too often, I surrendered to the clichéd "trust God."
Trust God to bring the right person to you.
It sounds good — and of course it's true — but there's so much more to the equation. Does trusting God mean a person shouldn't read the Singles pages or attend Singles groups? If a person trusts God, shouldn't they wait for Him to bring someone their way, rather than go hunting? Or maybe that's presumption. After all, if you're gonna land a live one, you gotta have a hook in the water. So perhaps trusting God for a mate doesn't mean sitting still and doing nothing… it means getting out there and looking.
The other day, I was reading Chris and Krystal's blog (my son and daughter-in-law). They've been married for a year-and-a-half and make a terrific couple. But Chris's "search" was anything but… Divine.
I recall a party we once had for Chris. Fifteen friends and relatives gathered to celebrate his 24th birthday. The fact that he was the only single guy in his group was a continued source of jabs and jest. His "search" had led to awkward blind dates and short-term flameouts. At the time, he'd sworn off girls to finish his degree. But he was always a good sport about being a bachelor, and the butt of his buddies' jokes. Anyway, someone at the table had to go and suggest he try eHarmony, which drew the expected smirks, snickers and guffaws.
Until a couple at the table said it worked for them. A Christian couple. A married Christian couple.
Which seemed like an oxymoron. Doesn't a "science of compatibility" rule out God?
I've been privileged to perform dozens of marriages. And the way people meet is as varied as the people themselves. But while some see relationships as nothing more than a social construct or a complex (sometimes volatile) chemical stew, most attribute their significant other to Sovereignty, or at least, Fate. Yet if real, long-lasting relationships are somehow Destined or Divine, should it matter HOW those people come together?
I mean, why CAN'T God use eHarmony?
I can already hear the naysayers: How can a person who wholeheartedly trusts God turn to a matchmaking service for a compatible partner? Doesn't this take the issue out of God's hands and put it into the hands of scientists, clinicians and shrinks? Doesn't this make our relationships more a Formula than a Divine encounter? These are legitimate questions. Nevertheless, that Sunday afternoon we met a delightful Christian couple. One that has remained married and now has a son. They met through eHarmony and tied the knot.
So was it Science or Luck? If you ask them, they'd say their relationship is wholly Divine.
Chris and Krystal are happily married. They didn't meet through eHarmony. Their relationship was far less science… and more chemistry. They got set-up through my daughter Melody. Melody worked for a friend of mine named Mike. Mike's daughter, Krystal, also worked for him. I knew Mike because he and his wife had attended my church. They were invited by another couple who attended my church. That couple, the ones who invited Mike and his wife, lived across the street from another couple who attended.
And everything just kinda bleeds together after that.
So was Melody the hook-up? Or was it me and Mike? Then again, perhaps it was Mike's next-door neighbor. But they had no idea Chris and Krystal would ever get married. Which proves it was Luck. Or not.
Okay, so I'm just thinking out loud. Three of my four kids are married. Only Alayna remains. I had prepared myself for the day that Alayna asked me, "Hey Dad, should I try eHarmony?" At that point, I would probably shrug, feign fatherly wisdom, and say with confidence, "Trust God."
But, alas, Chance has stepped in.