It's been a couple weeks since my post Why Christians Can't Agree About Christian Fiction. The volume of comments—that's volume as in emotional decibels and quantity—that followed, and the conversations that ensued, has been fascinating. I wanted to take a minute to recap some of those varied reactions, ponder why this subject maintains such interest (or loathing, depending upon where you stand), and what I'm learning along the way.
Let me begin with this email I received from a reader a few days after that post:
Mike,

I think your blog post, the other day, Why Christians Can't Agree About Fiction, really threw me for a loop. I can't stop thinking about it — and I think you're right when you boil it down to the honesty/holiness camps. This differentiation, to me, is prevalent everywhere in our faith. My family and I recently switched churches for this basic idea — the old one wanted my artsy husband and I to conform, the new one just accepts us the way were are.

I think my readers, who are all starting in their writing journeys, need to find some encouragement to be themselves, to be honest in what they write, and more importantly, avoid the shackles of legalism, which often calls itself holiness… Thank you. I believe that Grace always wins, and writers of graceful stories might not be on the cover of the CBD catalog, but I think we have, in the long run, the most power to change the world.
Like this reader, others seemed to draw sufficient inspiration (or ire) from the post to pursue the subject from other angles at their own blogs. Jessica Thomas asked Should Christians Be Concerned About the State of Christian Fiction? While Katherine Coble pondered how Christians are to relate to the world in In, Not Of. Tracy Krauss mused, To CBA Or Not to CBA, That is the Question, and over at Speculative Faith, Fred Warren did a very entertaining parody of our debate in a post entitled Showdown. Thanks Fred for the much-needed levity! Interestingly enough, a forum of Christian filmmakers also ran with the subject so, apparently, the issue is not confined to the CBA.
The post made the Twitter rounds, and another blogger requested an interview from me regarding the topics raised on that post (which I am still working on). And I received notice of several other posts (or stealth rebuttals) that addressed the topic from other angles.
But unlike the emailer above, not everyone was enthused or inspired. For instance, I received this challenge from someone on Twitter in response to a RT of the post: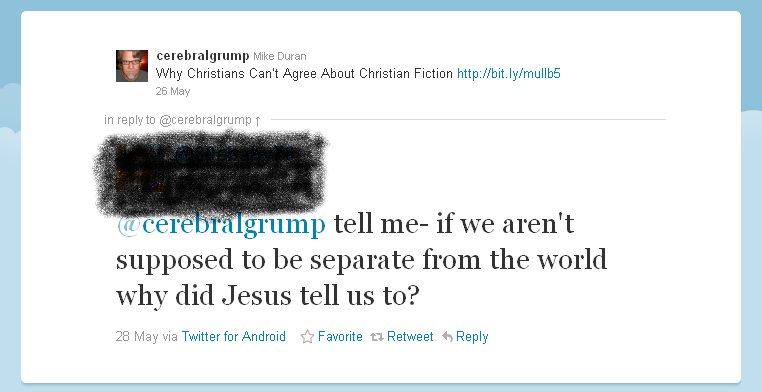 Nothing like trying to talk theology in 140 character chunks.
In the post comments, someone linked to Kat Heckenbach's Put Down Your Sword… and Write. Kat said:
There seems to be this war going on between Christian writers. Because there are "preach to the choir" Christian books, and "edgy" Christian books, and books written by Christians that aren't overt at all and really could be classified as secular. And there are straight-up secular books read by Christians as well.
Everyone has their own idea about what makes a book "Christian"—whether that means squeaky clean, edgy, or horror. And to be honest, I'm tired of people pounding their chests, exclaiming that their kind writing is the best kind of Christian writing. (emphasis in original)
Whether or not Kat had me in my mind when she wrote this, I don't know. At least, I sure hope I'm not viewed as someone out here pounding my chest :(. Nevertheless, I was directed to the post by others three different times the following week, which I interpreted as a confutation of the opinions I've expressed.
Then friend and novelist Becky Miller took dead aim at what she perceived was my inaccurate characterization of "holiness," specifically linking it with legalism. Her posts Holiness Is Not a Dirty Word spun off into a four-part series on holiness at Becky's website. Becky's concerns about my use of the word "holiness" could be probably summarized in this statement found in one of her comments:
To me it really is offensive to take a word God uses about Himself to delineate His moral purity and apply it to people who are perverting the very concept of righteousness.
The comments on Becky's post are rather interesting. There are references to "sanctification," Pelagianism, the Keswick Movement, Sabbath laws, even the Greek word hagios, the root word for "saint," is dusted off.  Now that's my kind of discussion!
In all honesty, I came away feeling that Becky had misrepresented my point. (Which is one reason I've waited two weeks to bring the topic up again.) However, since then, Becky and I have had a face-to-face talk. Our friendship has never been in question. But neither has our differing perspectives on Christian fiction.
Anyway, it's left me slightly pensive.
On the one hand are people like Marion who commented, "This is a much needed discussion and maybe there is some real growth taking place in Christian Fiction." And then there are folks like Becky who believe I am hurting the cause of Christian publishing and Kat who is wearied by "this war going on between Christian writers."
So which is it? Shut up and write, or keep up the discussion?
Listen, I am not in this to make enemies. I am not in this to start or maintain a war. I have no desire to stifle anyone's career. My mission is not to change anyone, disparage anyone, get rich, or become famous. I love Jesus and want to serve Him. I love God's Church, God's people, and want to see the Gospel furthered. I am a Christian artist. I am not ashamed of saying that, and believe our calling and our heritage is the highest of any! I feel the arts — specifically, the Christian arts — IS a discussion we must continue to have. We owe it to Him! We owe it to ourselves. We must brave the ridicule, the potential hurt feelings, and the career implications. And we must remain humble. I am not above reproof and correction… and don't mind being told so. My positions are not infallible. And neither are yours.
All that to say, this "conversation" may seem tired, divisive, pointless, and unresolvable. But if the amount of heat it generates is any indication, the topic appears to remain relevant.