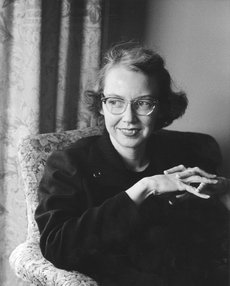 She is routinely considered one of the greatest Christian writers ever. An avowed believer, passionate and unashamed to speak or write of her faith, O'Connor's work is often upheld as a standard for what religious fiction should (or could) be.  Nevertheless, many readers of contemporary Christian fiction still have a difficult time answering the aforementioned question: Did Flannery O'Connor Write Christian Fiction?
In her favor, O'Connor clearly had a "redemptive agenda." In her collected letters, The Habit of Being, she writes:
One of the awful things about writing when you are a Christian is that for you the ultimate reality is the Incarnation, the present reality is the Incarnation, the whole reality is the Incarnation, and nobody believes in the Incarnation; that is, nobody in your audience. My audience are the people who think God is dead. At least these are the people I am conscious of writing for.
So O'Connor wanted to bring "the ultimate reality. . . the Incarnation" to "people who think God is dead." I'm not sure I know a single Christian author who doesn't aim for that end. However, it's this "audience" issue that muddies the question. For in attempting to reach "people who think God is dead," O'Connor eschewed didacticism in favor of shock. She explains:
The novelist with Christian concerns will find in modern life distortions which are repugnant to him, and his problem will be to make these appear as distortions to an audience which is used to seeing them as natural …. When you can assume that your audience holds the same beliefs you do, you can relax a little and use more normal means of talking to it; when you have to assume that it does not, then you have to make your vision apparent by shock  — to the hard of hearing you shout, and for the almost-blind you draw large and startling figures. *emphasis mine)
Notice that the Christian novelist, when writing to an audience that "holds the same beliefs you do," can… "relax a little." Exactly how do Christians authors writing to Christian audiences relax? And does this "relaxation" hurt or help our stories? Whatever the answer, it was O'Connor's perceived audience that prompted her to employ shock and grotesquery. And it is precisely these "large and startling figures" that often befuddle and offend the contemporary Christian reader. Take for instance, this paragraph from her story, Parker's Back:
Suddenly Parker began to jump up and down and fling his hand about as if he mashed it in the machinery. He doubled over and held his hand close to his chest. "God dammit!" he hollered, "Jesus Christ in hell! Jesus God Almighty damm! God dammit to hell!" he went on, flinging out the same few oaths over and over as loud as he could.
O'Connor is undoubtedly a believer with a clear evangelical aim. But by current standards, language like this immediately disqualifies a story from the ranks of Christian fiction. So perhaps that's the problem: We use today's Christian fiction as the yardstick for what the genre should be.
It's not a stretch to suggest that O'Connor would take issue with today's religious fiction. In Mystery and Manners (p. 163) she writes:
Ever since there have been such things as novels, the world has been flooded with bad fiction for which the religious impulse has been responsible. The sorry religious novel comes about when the writer supposes that because of his belief, he is somehow dispensed from the obligation to penetrate concrete reality. He will think that the eyes of the Church or of the Bible or of his particular theology have already done the seeing for him, and that his business is to rearrange this essential vision into satisfying patterns, getting himself as little dirty in the process as possible. (emphasis mine)
The "sorry religious novel" is one where the writer gets herself "as little dirty in the process as possible." Which makes me wonder whether or not our "family friendly" approach to Christian art isn't somehow detrimental.
So on both of these counts — audience and language — Flannery O'Connor's stories would NOT be considered Christian fiction. However, I think that says more about how we have come to view Christian fiction than anything. Which is a shame.
* * *
What say you? Did Flannery O'Connor write Christian fiction?