My last foray into Stephen Lawhead territory was with The Pendragon Cycle.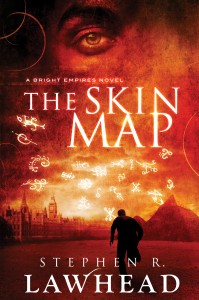 That was back in the early 90's, and it was quite an enjoyable experience. So it was with some anticipation  that I opened The Skin Map, Lawhead's latest and the first of a series. Conceptually, the novel appeared to be a perfect vehicle for Lawhead, who excels at historical detail. But while the concept and the detail don't disappoint, I found myself struggling through both.
The Skin Map blends several genres, but is probably best described as time travel or urban fantasy. The story revolves around Kit, a 21st century Londoner who stumbles upon a portal between different universes within our multiverse (alternate universes with infinite possible histories). Along the way, he loses his girlfriend Wilhemina in 17th century Prague, and in an attempt to rescue her, finds himself in a quest for a map that details these universal portals (or ley lines). As such, the story shifts between numerous possible worlds, an 18th-century Chinese port, old England, ancient Egypt, just to name a few.
But what could be a wild ride was, for me, only marginally interesting. For the main characters who lead me on this fantastical journey are not very interesting. Kit and Wilhelmina's relationship, which becomes the dramatic hinge of The Skin Map, endeared me to neither. For instance, upon introduction, we learn that Kit believes "he simply had to get a new girlfriend at first opportunity" (pg. 29). After a rather unflattering description of Wilhelmina's features — mousy hair, receding chin, spinster's hump, and dark-circled eyes — it's no wonder he feels this way. She yawns a lot, is emotionally cold, even calls him a "dope." Thus, our protagonist concludes, "Wilhelmina was no catch" (pg. 30). To which the reader must surely agree. So when Kit leads Wilhelmina to the portal and they spiral into different histories, I almost wanted to say "Good riddance.'
Which creates a problem, because finding Wilhelmina becomes the springboard of the novel.
As compelling as the possibilities of inter-dimensional, alternate history jumping could be, Lawhead's characters seemed strangely un-incredulous, as if finding oneself in 17th century Prague was just a scheduling error. So when one of Kit's guides warns that Wilhemina "might cause unimaginable damage, unleashing catastrophe after catastrophe of unreckoned proportions" (pg. 125), I had to ponder what "unimaginable damage" that might involve. Time travel stories carry their own logical questions. Tweaking A affects B, which changes C and inevitably removes Z. Perhaps Lawhead will explore such possibilities in later installments. However, in The Skin Map, I was left with a lot of those questions.
Stephen Lawhead is adept at setting and historical details, and this is where The Skin Map excels. Descriptions of the Chinese port city and the bakery in old Prague are wonderful. And some of the physics and philosophical speculation are intriguing. (I especially liked Lawhead's short essay Afterword entitled The Ley of the Land, which outlines the realtime theories behind the story.) So as much as I felt a disconnect with the characters, Lawhead is a great writer and has proven his handle on tales of epic scope. For that reason, I'll give him the benefit of the doubt and the rest of the series a shot.
Disclosure of Material Connection: I'd like to thank Thomas Nelson Publishers for providing me this Book free as part of their BookSneeze.com book review bloggers program. I was not required to write a positive review. The opinions I have expressed are my own. I am disclosing this in accordance with the Federal Trade Commission's 16 CFR, Part 255: "Guides Concerning the Use of Endorsements and Testimonials in Advertising."