So I took up Patrick Rothfuss's The Name of the Wind on Katherine Coble's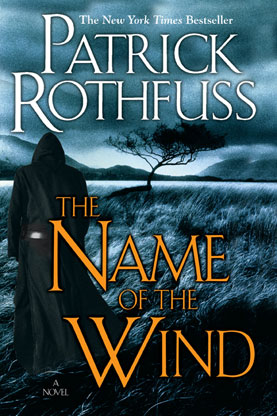 recommendation. Several things initially worked against my decision. For one, I'm a slow reader. So the book's 700-plus page count didn't rev me up. Secondly, was my waning interest in epic fantasy.
A bit of background: I like epic fantasy. At least, I used to. That was before Tolkien. I've read the the Lord of the Rings trilogy twice. The Hobbit and The Silmarillion. And I own the Extended version of Peter Jackson's film trilogy (if that counts). After reading the trilogy, I remembered wondering aloud if any work would ever measure up? Still, I began searching to fill my then budding fantasy fix. So I read the first part of the Thomas Covenant series. And while I enjoyed it, it was no Tolkien. Then someone recommended Terry Brooks' The Sword of Shannara series. I only made it through the first book.
And the slow disinterest began.
The more I read and watched epic fantasy evolve, the less it seemed that there was anything original. Elves, dwarves, and wizards, creature classes, rustic maps, misty mountain ranges and enchanted forests, talking trees, warrior kings and genteel oracles. And of course, magic swords. Everything seemed to be a rehashing of Tolkien's template. The Lord of the Rings didn't just set the standard for epic fantasy, it made everything else feel derivative. I could not pick up an epic fantasy novel without it (or an endorser) screaming THE NEXT TOLKIEN! It left me less a believer in Tolkien than a skeptic in original epic fantasy.
Patrick Rothfuss has me rethinking that.
No. I'm not up on the genre. I haven't read epic fantasy in at least a decade and am sure there's other great fantasy series and authors out there. And I'm not prepared to place Patrick Rothfuss anywhere near Tolkien. However, there are so many reasons to love The Name of the Wind. Its complexity, its voice, its scope, its subtlety. But the main reason I found myself enthralled with this novel was the sense of originality.
The Name of the Wind just feels… fresh.
Perhaps it's because I've been out of touch with the genre — my "distance" from it has made epic fantasy feel fresh. Maybe the market has caught up and we're witnessing a sort of 21st century-style epic fantasy. (Rothfuss would be a good example of a blending of modern scientific theory and old world arcana.) Or maybe this is really just a screed against derivative novels. Then again, every novel is derivative in some way. Most likely, it's indicative of my own personal growth as a reader and my own evolving tastes.
Either way, I can feel my love for epic fantasy stirring. Should I be afraid?