MIKE: Dan, what was your initial reaction after hearing of the Stoker nomination? It had to have been exciting and a little bit scary. Did you see it as a potential career break? Were you nervous, skeptical? And how do you see it now?
DAN: Wow, yea, I was honored to see Solomon's Grave make it to the final ballot of the Bram Stoker award. Like many writers, I'd had stories, even my first collection, reach the Preliminary Ballot. To see my first novel rise to the next level was fantastic! I wasn't certain how the subject matter might have been received by the voting members of the HWA, but I suppose in the end people vote if they like the story and writing, and not so much on what specific elements are / are not in it. Of course, being realistic, getting on the ballot has a lot to do with getting the book into voters' hands. I wasn't too good at marketing Solomon's Grave, so much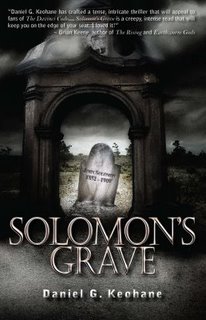 had been going on in my life when it was released… not to mention I'm a lousy marketing person, lol. When it landed on the preliminary ballot, however, I got off my duff and offered free copies to voting members of the organization. Many took me up on the offer. That's the thing with awards, or book reviews: the work has to be read, and that takes copies being sent out everywhere. I'm sure there were many novels better than mine which no one had read or even heard of. If they'd gotten the attention of enough people, I might have been bumped off the list! This also applies to horror/suspense novels in the CBA. I've read Christian fiction books which I've really enjoyed, even recommended them for the Stoker, but likely the majority of HWA members don't come across these books on a daily basis, so many are never nominated. Visibility is such a key thing.
MIKE: Tell us a little bit about your latest novel Margaret's Ark.
DAN: Margaret's Ark is based on my shot story "Lavish" published in a science fiction magazine years ago (circa 1999). It was an answer to a question, what kind of flood could occur where you wouldn't even be safe on a mountain top? It's the kind of question everyone asks themselves after it has rained for more than a couple days. The answer was easy, the Great Flood. As I started wondering about the Flood, I wondered what it would have been like had that situation happened today, with mass communication and a heck of a lot more people on the planet. What came about was a tale of thousands of people across the globe being told to build arks on their front yard or the town square. The story had some measure of success, but I often wondered about what might have come before and how the characters would have coped with everything leading up to it. How much faith would people need to take such a step? If the only miracle they'd been given as motivation was that so many others with the same 'dreams' as themselves, would it be enough to make them give up everything to face potential ridicule and fear from others? So, I backed up sixty days in the tale and decided to write about Margaret Carboneau, the main character, along with a few other side characters from the original story, tell their story throughout this sixty day period. The result is what you have before you now, and it actually inspired me to continue forward and write what would become my first published novel, Solomon's Grave (Dragon Moon Press). I had found such joy writing these characters, working their faith, and mine, into my writing. Solomon just happened to be the first to be published (after seeing print also in Italy and Germany, but that's another story).
MIKE: What has been your journey in trying to place Margaret's Ark? Surely a Stoker-nominated author could garner some interest among publishers. And how has that journey led to Other Road Press?
DAN: As I mentioned above, Solomon's Grave was actually written after Margaret's Ark, so its garnering of a Stoker Award nomination came well after Ark had run the gamut of both the CBA and secular presses. The CBA had two major issues: first, the main character was Catholic, and this did not wash with a predominantly Protestant readership. Secondly, the general theme of a new Great Flood was considered non-biblical, since God said he would not do such a thing again.  Valid point, and early on in the writing process this was a concern. I address this pretty directly in the story, hopefully well enough to allay reader's concerns. I had to craft the reasons for everything that happens carefully. It worked… I think. I hope. 🙂
The secular markets, and this was key to my decision later to produce it myself, was actually quite receptive to the book for the most part. I garnered some nice kudos, though almost always followed by the expected: "However, we do not think we'd have success marketing it." Is it a horror novel, religious tome, a suspense novel in the Dan Brown vein? Goes back to what readers (might) want, versus how much of a risk a publisher is willing to take getting it to them. With a couple years gone since Solomon was released, I wanted to get a new book out and into my fans' hands. So many writers were experimenting at putting out – if not printed versions – at least eBooks of their stuff. I decided while I continue to write and market my other schlock, I'll create Other Road Press and release Margaret's Ark myself. See what happens.
MIKE: You're calling Other Road Press your "grand experiment" but, apparently, are leaving the door open to publishing other authors. If so, what would it take for you to "open your doors" and what kinds of stories and authors would you be looking for?
DAN: Margaret's Ark is such a unique novel that I feel it worthy to be out there in the public eye and at least have a chance at being read, and since voices bigger than my own agreed – to one extent or another. The book's need for a pathway to readers makes me think, often, of what Other Road's future will bring. I haven't completely ruled out the possibility of finding other like-minded stories to publish. Just… not yet.
Publishing is as all-consuming as is writing, more so probably. I'm sure there are writers out there creating some pretty amazing stuff – just read any issue of Relief Magazine or one of their Midnight Diner anthologies and to see how much potential work there is when the barriers of the secular market (skittish as it might be to present Christ and the faith of his followers) and the Christian Book market are blurred or outright shattered. Novels which tell honest stories of Christians as they truly are: flawed, but trying really hard to do what's right in God's eyes. I guess, in the end, that's what I want to do, when we're talking about writing something and letting my Christian beliefs spew all over the pages: tell a story; tell it the best I can, even if it means pulling two disparate worlds together for a few hundred pages in a book. Christians and other people of faith have done it for centuries. So, if doing that means sometimes I'll need to get off the pot and do it myself, so be it. If down the road I come to the decision that I'm hogging the sandbox and should let some other kids in to play, too, so be that. Once I get the kinks out and make a few more mistakes, I might consider ORP to be more than a vehicle for my own stuff, and see what other worlds I can share with people.
* * *
Thanks so much for visiting, Dan! Remember, you can visit Dan Keohane's website HERE.  And if you'd like to a chance to win a signed copy of Margaret's Ark, leave a comment. I'll announce the winner on Friday. Once again, thanks Dan. Godspeed to you and your writing career!