The worst part of message-driven fiction may not be any particular message, as much as the effect that reading such fiction has upon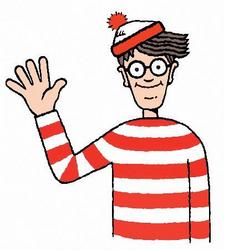 its readers. Like a literary version of "Where's Waldo?" the reading experience is reduced to a search for "clues" rather than aesthetic enjoyment.
To put it bluntly, message-driven fiction potentially dumbs down readers.
Novelist Athol Dickson, in a post at Novel Rocket entitled Why My Novel Will Not Sell, addresses this issue as it relates to the Christian market:
…typical readers in the Christian fiction market in particular not only want all the questions answered in the end, they also seem to want the answers to include a message, a moral, or even (shudder) a clear doctrinal statement. You know: the way The Little Engine That Could teaches "don't ever give up," or The Cat in the Hat instructs one on the importance of tidying up before Mother comes home.

…Now here's something strange: The very same readers who want a clear moral, or message, or doctrinal statement in a novel are usually the ones who don't like thinking much about a novel. They want their Eternally Important Message, and they want a "fast paced page-turner" too, and they want it all in the same book!




I have never understood this, but it's true. (bold emphasis mine)
I applaud Athol for his candor (and perhaps a bit of reverse psychology). He is not the first author, particularly Christian author, to note this connection between message-driven novels, the readers who gravitate toward them, and the effect such fare has upon our intellect. Several years ago, I reposted my article Is Christian Horror Becoming a Trend? over at Novel Rocket. Not only did I receive an encouraging private email from one of the authors I cited, but both Eric Wilson and T.L. Hines left some terrific comments on that post.
I was especially interested in something Tony Hines, author of The Falling Away, said in his comments:
…I do feel there's a difference between ABA and CBA readers. And to be brutally honest, ABA readers are more sophisticated. I'm a little shocked when I see some reviews of my work on Christian book sites, with people decrying the lack of "Christian" content in a few of my works. I think, symbolically and metaphorically, the Christian content is rather obvious. Maybe a bit too obvious, as Publisher's Weekly said of their review of my second book, "The Dead Whisper On."

I do find it troubling that a fair amount of CBA readers (at least in my experience) have a hard time seeing symbolism; we should, after all, be BETTER about seeing these kinds of things since many of Jesus's teachings were told in parables. (emphasis mine)
No doubt some could misinterpret this as suggesting that CBA readers are simple-minded, naive, or uneducated. I'm sure that's not what Tony was implying. Like Athol Dickson, Hines is simply pointing out what happens when readers are primed to purchase novels based solely on a "message."
We create a body of "unsophisticated" consumers, readers "who don't like thinking much about a novel," and "have a hard time seeing symbolism." As long as they get their "message," everything's peachy keen.
After all, we're just looking for Waldo.
Many will, undoubtedly, see this as a slam against Christian readers. But do me a favor. Before you jump to their / our defense, separate the actual readers in question — Christian readers — from the "charge." Ask yourself:
Are readers who are accustomed to looking for a particular message in their stories more or less likely to be good readers, sophisticated readers, discerning readers?
I mean, if the goal of a Christian story is just to "find Waldo," then the demands we place on our readers does them, and the Gospel, a disservice.