My first e-book is now available. It's been a lot of fun to write, a great learning experience, and a wonderful chance to collaborate with others (I'll talk about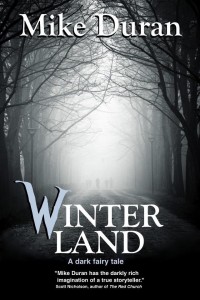 that more in my next post). Winterland is currently available at Amazon.com for Kindle downloads, as well as through Smashwords. Apparently, there's a bit of a lag between its publication date and when some publishers actually receive the book through Smashwords. So those reading through Sony, Apple or Kobo, will have to wait another week or so.
Winterland is a novella (approximately, 27,000 words), and best described as urban fantasy, slipstream, or dark adult fairy tale. For a more detailed synopsis see my Winterland page. Anyway, the book is priced as $1.99 and will be linked in my sidebar. If you do purchase a copy, I'd really appreciate a publicly posted review of the story, good or bad. Also, I have a coupon code for a free Smashwords download for the first five commenters here who simply request it. This story is quite different than anything I've ever written, so I'm interested to hear readers' responses.